Screening: EVBG – FEELING MYSELF
---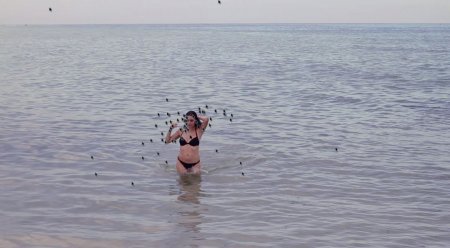 Eröffnung
Samstag, 30. Juli 2016, 19 Uhr

Laufzeit
30. - 31. Juli 2016

Öffnungszeiten
Sonntag, 14:30 - 18:30 Uhr und nach Vereinbarung

Ein Wochenende lang zeigt uqbar ein von EVBG präsentiertes Video- und Filmprogramm mit Arbeiten von Jeanne Dunning, Sally Glass, Ann Hirsch, Maja Malou Lyse und Jillian Mayer.

Eine Frau muss sich unaufhörlich ihrer selbst vergewissern. Stets wird sie von ihrem eigenen Bild begleitet, erklärt John Berger in Ways of Seeing. Von frühester Kindheit an lernt eine Frau sich zu kontrollieren, alles, was sie ausmacht und alles, was sie tut und wie sie anderen Menschen erscheint zu überwachen. Der aktive, bestimmende männliche Blick projiziert seine Fantasie auf die weibliche Gestalt. FEELING MYSELF präsentiert Künstlerinnen, die den Blick der BetrachterInnen unterminieren, ausschlachten und austricksen.

Maja Malou Lyse präsentiert sich den BetrachterInnen ihrer Cam-Show auf den ersten Blick als erotisches Spektakel. Doch indem sie schweigend weint, trickst sie die - vermutlich männlichen - Cam-Chat Teilnehmer aus und unterläuft deren Erwartungen. Jillian Mayer läuft mit einem Bikini bekleidet ins Meer hinein und wieder heraus. Ihr Auftreten als heißes Strandgirl zielt darauf ab zu gefallen. Sie ist jedoch nicht allein im Bild, dutzende Computer-Cursor weisen auf andere BetrachterInnen hin.

Digitale Techniken nutzend und unterwandernd, machen sich die in FEELING MYSELF präsentierten Künstlerinnen selbst zum Gegenstand der eigenen Arbeit. Sie nutzen ihren eigenen Körper als Inspirationsquelle und Material und performen für die Kamera. Ann Hirsch setzt ihren Körper nicht ein, um eine sexuell konnotierte Reaktion zu forcieren, sondern präsentiert ihn auf alberene, ungeschönte Weise. Sally Ripper nimmt sich der männlich dominierten Metal-Welt an und spielt mit ihrer Position als Frau. Der brachiale Text wird vor ihren tanzenden Brüsten in Babyblau hervorgehoben, sie übernimmt die Kontrolle. Jeanne Dunning lässt die Betrachter an absurden und doch intimen und alltäglichen Ritualen der Körperpflege teilhaben, die sie in einer ruhigen, unaufgeregten Weise vorführt.

In den ausgewählten Video- und Filmarbeiten brechen die Künstlerinnen die Struktur des männlichen Blicks auf. Sie behaupten ihren Körper für sich, eignen ihn sich wieder an, sie präsentieren sich gemäß ihren eigenen Vorstellungen, sei es albern, lustig, konfrontativ, sexualisiert, abstoßend oder begehrenswert. She's feeling herself.

Jeanne Dunning (Chicago/USA)
Dunnings fotografische, skulpturale und Video-Arbeiten erforschen die Beziehungen, die wir zu unserer eigenen Körperlichkeit haben. Sie betrachtet das Seltsame und Unbekannte des Körpers, Vorstellungen von Geschlecht, Normativität und Tod. Ihr Werk wurde bereits in Ausstellungen wie der Whitney Biennale, Sydney Biennale und Venedig Biennale gezeigt, sowie in Einzelausstellungen in folgenden Institutionen: Hirshhorn Museum and Sculpture Garden, Washington D.C.; Museum of Contemporary Art, Chicago; Konstmuseet, Malmö.

Sally Glass (Houston/USA)
Künstlerin, Kuratorin und Herausgeberin. Sie hat an diversen Einzel- und Gruppenausstellungen teilgenommen und ist Gründerin und Mitherausgeberin von Semigloss, einer Publikation für zeitgenössische Kunst. Sie ist Kodirektorin
des Gimp Room in Houston, Texas.

Ann Hirsch (Los Angeles/USA)
Video- und Performancekünstlerin, die sich dem Einfluss von Technologie auf Popkultur und Gender widmet. Für ihre Recherche wurde sie eine YouTube Camwhore mit über zwei Millionen Klicks und nahm an der Reality-Show Frank the Entertainer in a Basement Affair auf Vh1 teil. Ihr Zwei-Personen-Stück Playground prämierte am New Museum und in der South London Gallery des Goldsmiths College.

Maja Malou Lyse (Kopenhagen, Denmark)
Performancekünstlerin und angehende Gynäkologin. In ihren Arbeiten untersucht sie Macht- und Begehrensstrukturen. Ihre Performances zeigte sie unter anderem an der Tate Modern, London sowie am Moderna Museet, Stockholm. Zurzeit studiert sie an der Royal Danish Academy of Fine Arts in Kopenhagen.

Jillian Mayer (South Florida/USA)
Künstlerin und Filmemacherin. Ihre Video Arbeiten wurden unter anderem am MoMA, MoCA: NoMi, BAM und Bass Museum gezeigt. Mayer hat das renommierte Creative Capital Fellowship 2015 erhalten und wurde vom Filmmaker Magazine zu den "25 New Faces of Independent Film" genannt.
Opening
Saturday, July 30, 2016, 7 p.m.

Duration
July 30 – 31, 2016
Opening hours
Saturday – Sunday, 2.30 – 6.30 p.m., and by appointment

For one weekend uqbar will show a screening program conceived by EVBG, a venture by Marie Beckmann and Julie Gaspard dedicated to showing video and film art.

A woman must continually watch herself. She is always accompanied by her own image of herself, John Berger states in Ways of Seeing. From earliest childhood the woman has been taught to survey herself continuously, to survey everything she is and everything she does because how she appears to men. The active and determining male gaze projects its fantasy on to the female figure who has styled herself accordingly. The artists presented in FEELING MYSELF subvert, cannibalize and trick the audience's gaze.

Maja Malou Lyse on first glance presents herself to the viewers of her camshow as an erotic spectacle. She tricks the presumably male viewers who participate in the cam chat initially by keeping quiet. Silently crying, she confuses the men who do not see their expectations fulfilled. Jillian Mayer walks in and out of the ocean wearing a bikini. Her hot beach babe personage aims to please. But she is not entering the frame for you alone; dozens of computer cursors denote other gazers.

Using and subverting the digital realm to confront, amuse and distort, the artists presented in FEELING MYSELF are both artist and subject. Inspired by their own bodies, they use themselves to perform for the camera. Ann Hirsch reclaims her body for fun. She does not use her body to illicit a sexual response, she uses her body to be silly. Sally Ripper takes the male dominated metal world and subverts her position as a woman, highlighting the lyrics in baby blue, she becomes the one in control.

In the video and film works presented the artists turn the structure of the male gaze around. Reclaiming their body for their own to present how they wish, be it silly, funny, confronting or sexual, off-putting or desired. She's feeling herself.

Jillian Mayer (South Florida, USA)
Artist and filmmaker whose video works and performances have been premiered at galleries and museums internationally such as MoMa, MoCA: NoMi, BAM and Bass Museum. Mayer is the recent recipient of the prestigious Creative Capital Fellowship for 2015 and was named one of the "25 New Faces of Independent Film" by Filmmaker Magazine.

Sally Glass (Houston, USA)
Artist, curator, and publisher based in Houston, Texas. Glass has participated in numerous solo and group exhibitions in Texas, the US, and abroad, and is currently the founding Editor-in-Chief of contemporary art publication semigloss. Magazine and is managing co-director of the Gimp Room in Houston, Texas.

Ann Hirsch (Los Angeles, USA)
Video and performance artist who examines the influence of technology on popular culture and gender. Her immersive research has included becoming a YouTube camwhore with over two million video views and an appearance as a contestant on Frank the Entertainer...In a Basement Affair on Vh1. She was awarded a Rhizome commission for her two-person play Playground which debuted at the New Museum and was premiered by South London Gallery at Goldsmiths College.

Maja Malou Lyse (Copenhagen, Denmark)
Performance artist and aspiring gynecologist. Her works explores the notions of power and pleasure production. She has performed at Tate Modern and Moderna Museet, and is currently studying at The Royal Danish Academy of Fine Arts in Copenhagen.
---