Fazal Rizvi, Sonya Schönberger - Afterimages: Of Erasures
---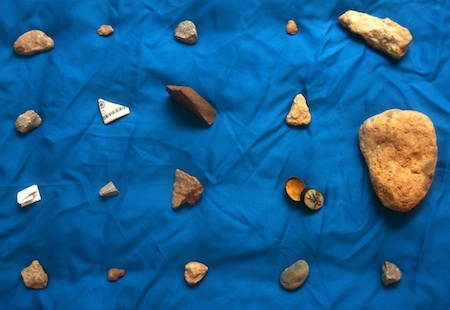 Eröffnung
Donnerstag, 8. September 2016, 19 h

Finissage
Sonntag, 25. September 2016, ab 16 h

Laufzeit
9. – 25. September 2016

Öffnungszeiten
Freitag – Samstag, 14.30 – 18.30 h

We seek not our origins but a way of figuring out what we are from what we are no longer. – Pierre Nora
Die von der Kuratorin Hajra Haider konzipierte Ausstellung Afterimages: Of Erasures bringt die Arbeiten von zwei KünstlerInnen zusammen, Fazal Rizvi (Karachi, Pakistan) und Sonya Schönberger (Berlin, Deutschland).

Überreste von Haushaltsgegenständen, solche wie sie in den Trümmern abgerissener Häuser gefunden werden können. Einige der Objekte sind an die 70 Jahre alt, andere scheinen jüngeren Datums zu sein. Sie stehen für Orte der Zerstörung und des Verlusts, für gelebtes und gewaltsam beendetes Leben. Die individuelle Herangehensweise der KünstlerInnen an das Sammeln und Dokumentieren dieses Material ergibt sich aus unterschiedlichen Ansätzen. Sonya Schönbergers Ansatz besteht darin, historische Narrative mittels mündlich überlieferter Geschichten und Objekte freizulegen und damit die Lücken und Leerstellen in der aktuellen Geschichtsauffassung zu vervollständigen. Fazal Rizvis Ansatz hingegen beruht auf einem Akt des Widerstands: indem er die Objekte aufhebt und die Veränderungen der Orte, die von Zerstörung betroffen sind, dokumentiert, protestiert er dagegen, dass diese aufgrund von Stadtsanierung und Stadterneuerung ausradiert werden.
Sonja Schönberger und das Tentative Collective, zu dem Hajra Haider und Fazal Rizvi gehören, sind ab dem 9. September 2016 zudem mit Arbeiten in dem Projekt Digging Deep – Crossing Far im Kunstraum Kreuzberg Bethanien in Berlin vertreten.
Mehr Informationen unter
www.sonyaschoenberger.de
tentativecollective.com
digging-deep-crossing-far.de

Das Projekt wird unterstützt durch

Opening
Thursday, September 8, 2016, 7 p.m.

Finissage
Sunday, September 25, 2016, 4 p.m.

Duration
September 9 – 25, 2016

Opening hours
Friday – Saturday, 2.30 – 6.30 p.m., and by appointment

We seek not our origins but a way of figuring out what we are from what we are no longer. – Pierre Nora

The exhibition Afterimages: Of Erasures, curated by Hajra Haider, brings together works by artist Fazal Rizvi (Karachi, Pakistan) and Sonya Schönberger (Berlin, Germany).

Two sets of remains of household items, the sort which could be found in the debris of a demolished home(s). Some of these items date back 70 years while others seem to belong to more recent times. These fragments represent sites of destruction and bereavement, of lives lived and ended by force. The individual exercise of collecting and documenting this material by Sonya Schönberger (Berlin) and Fazal Rizvi (Karachi) stems from diverse approaches. Schönberger's investigation leads her to excavate historical narratives through oral histories and objects, filling the gaps in inherent history to complete the present narrative. Rizvi on the other hand is engaged in an act of resistance where preserving fragments and documenting the changes in these sites erasures becomes a protest against these erasures, caused by urban regeneration.

Sonya Schönberger and Tentative Collective, an artist group that Hajra Haider and Fazal Rizvi are part of, will present further works in the exhibition Digging Deep - Crossing Far at Kunstraum Kreuzberg Bethanien in Berlin, November 9 – 13, 2016.
For more information see
www.sonyaschoenberger.de
tentativecollective.com
digging-deep-crossing-far.de

The project is supported by


---