As a Drop of Water on a K-Way...
---


*** German version below ***

Curated by Scintilla Robina & Norberto Dalmatah (alias Stefania Galegati & Marco Raparelli)

Opening Friday, October 19, 2007, 7 p.m.
Duration October 19 – December 2, 2007 (prolonged)


Talk and book presentation
Saturday, October 20, 2007, 8 p.m.
PLAY Platform for Film & Video, Torstrasse 218, Berlin
In the project As a Drop of Water on a K-Way… artists Stefania Galegati and Marco Raparelli - alias the two young curators Scintilla Robina and Norberto Dalmatah- are engaged for months in an e-mail conversation that aims at conceiving and organising their first exhibition together, an exhibition that turns out to be "impossible" for several reasons. In the course of the e-mail exchange Norberto and Scintilla speak about their curatorial strategies, their professional role models, the artworks and the artists they would like to have in the show, their emotions and insecurities, and of how to become "successful curators" in the global art system. The conversation, hilarious and mocking at times, is conducted in English - which is obviously not their mother-tongue, and has been printed as an artist book (ed. Fine Arts Unternehmen Books, Zug, 2007).
The project is based on the stratification and the mixing of languages, and on irony. The exhibition includes some of the material and pages from the book (texts, drawings, cut outs), and further develops the curatorial collaboration between the two fictitious, but "by now real", young curators in the Berlin context. Part of the exhibition is also a series of posters, the subject of which is curators' dreams, collected by Scintilla and Norberto in the months leading up to the show. The two young curators have invited more "established" colleagues to send drawings or texts, in A3 format, with the descriptions of their dreams. The posters will also be presented in various art locations in Berlin and in the public space. For the show at uqbar Scintilla and Norberto moreover promise to display some works of "very important" contemporary artists whose names will be revealed after the opening. The exhibition will be accompanied by a melodic soundtrack that will emphasize the character of the project.
Exhibition view

As a Drop of Water on a K-Way… is a collaboration between uqbar and Critical Care, a platform for contemporary curatorial practices, and the first of a series of common initiatives on the relationship between artists and curators, and on the strategies of dissemination of contemporary art today. Critical Care is a collective based in Berlin, initiated by Marina Sorbello and Antje Weitzel (supported by OTC).

The exhibition As a Drop of Water on a K-Way… is realized in cooperation with the Italian Cultural Institute Berlin, and supported by GAI - Association for the Young Italian Artists Circuit / MOVIN'UP PROGRAMME.

Stefania Galegati (Bagnacavallo RA, 1973) lives and works in Italy and in New York. Her alter ego, Scintilla Robina is a young curator and collaborates with some magazines like Donna Oggi, and Fitness and Culture. She has been the art curator of the Diesel store in New York, since 2005. She lives and works in New York.

Marco Raparelli (Rome, 1975) lives and works in Rome. His alter ego, Norberto Dalmata is a critic and philosopher. He studied at the Moderna University of Siena. He collaborates with many art magazines, like Brufolo and Flash Art Slovakia. He lives in Rome.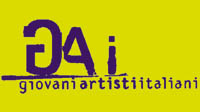 Kuratiert von Scintilla Robina & Norberto Dalmatah (alias Stefania Galegati & Marco Raparelli)

Eröffnung Freitag, 19. Oktober 2007, 19 Uhr
Laufzeit 19. Oktober – 2. Dezember 2007 (verlängert)

Talk und Buchpräsentation
Samstag, 20. Oktober 2007, 20 Uhr
bei PLAY Platform for Film & Video, Torstr. 218, Berlin


Für das Projekt As a Drop of Water on a K-Way... befinden sich die KünstlerInnen Stefania Galegati und Marco Raparelli – alias die zwei jungen KuratorInnen Scintilla Robina und Norberto Dalmata,– seit Monaten in einem regen E-mail-Austausch, um ihre erste gemeinsame Ausstellung zu konzipieren. In den E-mails unterhalten sich die beiden über ihre kuratorischen Strategien, ihre professionellen Vorbilder, die Künstler und die Arbeiten, die sie gerne zeigen würden, ihre Gefühle, ihre Unsicherheiten und darüber, wie man ein "erfolgreicher Kurator" im globalen Kunstsystem wird. Die E-mail-Konversation, humorvoll und zum Teil ironisch, findet in englischer Sprache statt – was nicht die Muttersprache der KünstlerInnen ist – und wurde mittlerweile als Künstlerbuch veröffentlicht (Fine Arts Unternehmen Books, Zug, 2007).
Das Projekt vermischt geschickt verschiedene Sprachschichten und Codes. In der Ausstellung werden Teile der im Buch vorgestellten Materialien (Zeichnungen, Fotographien, Ausschnitte, Text) zu sehen sein. Darüber hinaus haben Scintilla und Norberto für den Berliner Kontext eine Serie von Postern entwickelt, für die sie in vergangenen Monaten Träume verschiedener KuratorInnen gesammelt haben. Die zwei jungen KuratorInnen haben "etabliertere" KollegInnen eingeladen, Texte oder Zeichnungen ihrer Träume (im A3 Format) zu senden. Diese Poster werden nicht nur in uqbar, sondern auch in n verschiedenen Kunstinstitutionen in Berlin sowie im öffentlichen Raum präsentiert. Für die Ausstellung bei uqbar kündigen Scintilla und Norberto außerdem an, einige Arbeiten "sehr wichtiger" zeitgenössischer KünstlerInnen zu zeigen, deren Namen nach der Eröffnung enthüllt werden. Die Ausstellung wird von einem melodischen Soundtrack begleitet, der den Charakter des Projektes unterstreicht.
Ausstellungsansicht

As a Drop of Water on a K-Way… entstand in Zusammenarbeit zwischen uqbar und Critical Care, einer Plattform für zeitgenössische kuratorische Strategien, und stellt den Auftakt zu einer Reihe von gemeinsamen Initiativen dar, die sich mit der Beziehung zwischen Künstlern und Kuratoren sowie mit aktuellen Strategien der Präsentation und Vermittlung zeitgenössischer Kunst auseinandersetzten. Critical Care ist ein Kollektiv, das 2007 von Marina Sorbello und Antje Weitzel initiiert wurde (unterstützt von OTC).

Die Ausstellung As a Drop of Water on a K-Way… ist eine Kooperation mit dem Italienischen Kulturinstitut Berlin, und wird unterstützt von GAI - Association for the Young Italian Artists Circuit / MOVIN'UP PROGRAMME.

Stefania Galegati (Bagnacavallo RA, 1973) lebt und arbeitet in Italien und New York. Ihr Alter Ego Scintilla Robina ist eine junge Kuratorin die mit Zeitschriften wie Donna Oggi, und Fitness and Culture zusammenarbeitet. Sie ist seit 2005 die Kuratorin des New Yorker Diesel Store .

Marco Raparelli (Rome, 1975) lebt und arbeitet in Rom. Sein Alter Ego Norberto Dalmata ist Philosoph und Kritiker. Er studierte an der Moderna Universität von Siena und arbeitet mit vielen Kunstmagazinen wie Brufolo und Flash Art Slovakia zusammen.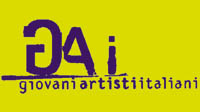 Exhibition view | Ausstellungsansicht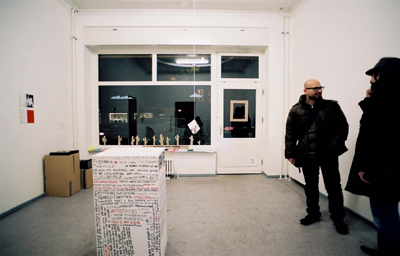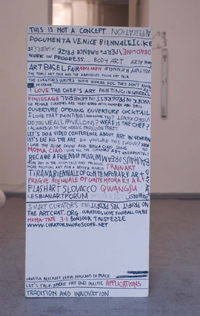 ---