Book release: Samandal - Topia
---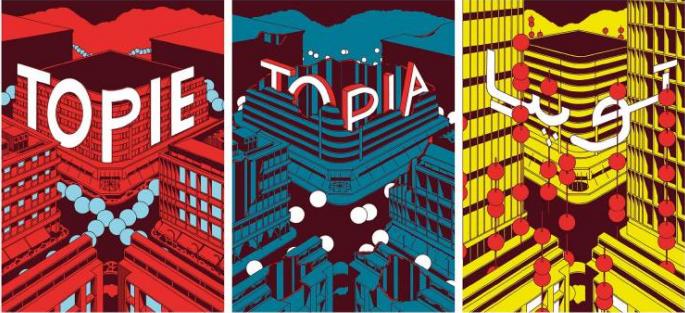 Book Release
Friday, December 15, 2017, 7 p.m.
Join us for the launch of Samandal's new publication TOPIA at uqbar and it's neighbour Copyright in Berlin, featuring a presentation by the Samandal team and an exhibition of original works and prints. Authors Raphaelle Macaron, Joseph Kai, Vincent Longhi, Alex Baladi, and Tracy Chahwan will be present to sign magazines.

TOPIE (FR)- TOPIA(ENG)- توبيا (AR) celebrates 10 years of Samandal with a compilation gathering 17 authors around the theme of Utopia. It exists in 3 different versions, all printed on a risograph with a special screen-printed cover by french artist Jerome Dubois. 216 pages of stories and colors.
Authors are: Joseph Kai, Lena Merhej, Raphaelle Macaron, Barrack Rima, Edmond Baudoin, Fouad Mezher, Mazen Kerbaj, Hatem Imam, Tracy Chahwan, Carla Habib, Alex Baladi, Omar Khouri, Ghadi Ghosn, Vincent Longhi, Paul Rey, Martin Sztajman and Charles Nogier.
Samandal is the Arabic word for salamander. Much like the dual habitats of amphibious creatures, Samandal comics thrive between two worlds; the image and the word, entertainment and substance, the low brow and the raised brow, the experimental and the traditional.

Samandal is a volunteer-based non-profit organization dedicated to the advancement of the art of comics in Lebanon and the rest of the world. Based in Beirut, they have published 15 magazines, and two comics anthologies and hosted comics-related events since 2007. Founded by Omar Khouri, Hatem Imam, Lena Merhej, the Fdz, and Tarek Naba'a, the Samandal comics association family has now grown to include Barrack Rima, Joseph Kai, Ghadi Ghosn, Raphaelle Macaron, Sara Sukhun, Yazan Al-Saadi, and Zeina Bassil.
Suopported by the Kulturakademie NANO, a project by the Goethe-Institut, funded by the Foreign Ministry
---