Finissage: Bettina Hutschek - HAUS 209
---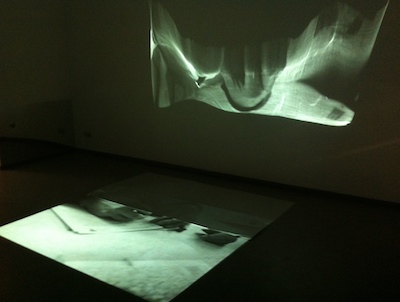 Finissage
Sonntag, 28. Januar, 2018, ab 16:00 h
Laufzeit
25. November 2017 - 28. Januar 2018
Öffnungszeiten
Freitag, 14:30 – 18:30 h, und nach Vereinbarung
Zur Finissage der Ausstellung HAUS 209 von Bettina Hutschek bei uqbar experimentieren wir mit Black Magic.
HAUS 209 erzählt die Geschichte einer Frau, die für ein dystopisches Experiment gebraucht wird. Die Frau ist in einer Klinik eingesperrt, in der Experimentatoren die Möglichkeit des Reisens in die jenseitige Welt mit der Hilfe von Radioaktivität erforschen. Testpersonen werden ins Jenseits geschickt, um Rat von den Stimmen zu holen, wie die Probleme der Menschheit zu lösen seien.
Der Film setzt sich aus Fotos von Aufenthalten in Kliniken für Radio-Jod-Therapien, aus Found Footage der 1950er Jahre, und aus mikroskopischen Aufnahmen von Zellvorgängen zusammen. Der Film ist eine Hommage an Chris Markers Film "La Jetée"; der Titel bezieht sich auf eine Station der Klinik Berlin-Buch, in der radioaktive Therapien durchgeführt werden.
Mehr Informationen
www.bettina-hutschek.com


Finissage
Sunday, January 28, 2018, 4 p.m.
Duration
November 25, 2017 - January 28, 2018
Opening hours
Friday, 2.30 – 6.30 p.m., and by appointment
For the finissage of Bettina Hutschek's show HAUS 209 at uqbar we will experiment with Black Magic.
HAUS 209 tells the story of a woman who is used in a dystopian experiment. The woman is a prisoner in a clinic in a crisis-torn country. Scientists research the possibility of travelling to the other world with the help of radioactive capsules. Test subjects are sent to the beyond to get advice from the voices of how to solve humanity's problems.
The film is constructed of still photos from a clinic for radioactive iodine therapy, of found footage from the 1950s, and of microscopic images of cells and inner-body activity. The film refers to Marker's "La Jetée," while the film's title refers to a ward in the clinic in Berlin-Buch, which is used for radioactive therapy.
More information
www.bettina-hutschek.com
---