Crushed Velvet – Perry Burlingame, Samantha Corbett, Laurence Hervieux-Gosselin, Megan G. King
---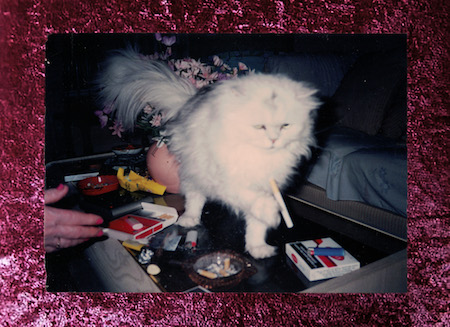 Opening
Friday, November 16, 2018, 6-10 pm
Duration
November 13 – 18, 2018
in conjunction with
Sticker Book
Bolle Eis: Bornholmer Strasse 14A
November 22 – 24, 2018
Opening: Thursday, November 22, 2018
Exquisite Corpse
Donau Ecke Ganghofer: Ganghofer Str. 6
November 9 – 24, 2018
In three concurrent exhibitions at project spaces uqbar, Bolle Eis and Donau Ecke Ganghofer, artists Perry Burlingame, Samantha Corbett, Laurence Hervieux-Gosselin, and Megan G. King, all participants of the Berlin Residency program, reflect on the malleability of identity in today's social climate. The distinct installations address topics of sexuality, gender politics, family history and stereotypes. Sculpture, video, images, installation and found objects come together as a collection of artifacts and questions for the future.
Perry Burlingame's (New York) sculptures examine how our sexualities are formed. Burlingame considers the sociocultural norms that develop and repress sexual identities, focusing on the period of adolescence. Questionable narratives from her past and personal memories coalesce around questions of female purity, self-respect and the idea of "natural" sexual behaviors. Using visual cues from equestrian sport, video games, and intimate acts in public spaces, Burlingame creates environments that mix pleasure, frustration, vulnerability and power.

Samantha Corbett (Minnesota) constructs installations using time as both subject and material. Researching the distilled language of poetry, Corbett creates a sculptural archive that will be on display in a site-specific installation at Donau Ecke Ganghofer. At uqbar and Bolle Eis, Corbett presents a modified heirloom that questions familial traditions and genetic history through the creation of a blanket made of copper – a material that tarnishes as touched, eventually rusting away.

Laurence Hervieux-Gosselin's (Montreal) photographs and installations explore the threshold between reality and fiction. Creating non-linear narratives from found photographs of mundane daily activities, Hervieux-Gosselin emphasizes the tension between humor and eeriness of scenes. In the three exhibitions, Hervieux-Gosselin presents compilations of found photographs that were shot in an elderly woman's apartment, documenting her daily life with her Persian cat. At uqbar and Bolle Eis, the original photographs are presented as a huis clos narrative. While at Donau Ecke Ganghofer, Hervieux-Gosselin responds to the storefront space by blowing up a selection of the cat photos to poster size, revealing both their cute absurdity and darker undertones.

Megan G. King's (Tennessee) interest in social ecology manifests in her investigation of socialized identity. By using disassembled clothing, string, and the available constructs of a space, King creates installations that question societal expectations of "female." The materials are disconnected from their original form and function, stretched and fastened with expedience. The suspended, textile architectures physicalize King's attempt to untangle the myths from the reality of gendered constructs.
Berlin Residency
Berlin Residency is an initiative of the College of Visual and Performing Arts at Syracuse University. Acting as a bridge between academic study and a career in the arts, the Berlin Residency provides studio visits with local artists, curators and writers and numerous exhibition opportunities to foster development of studio/creative practices and essential professional skills. The program is administered by artist and educator Daniel Seiple in conjunction with professors Laura Heyman and Sam Van Aken of Syracuse University.
Berlin Residency is located at the Fahrbereitschaft with the Haubrok Foundation in Berlin-Lichtenberg. For extra opening hours see @studio49fahrbereitschaft on Instagram.
Eröffnung
Freitag, 16. November 2018 , 18 – 22 h
Laufzeit
13. – 18. November 2018
in Verbindung mit
Sticker Book
Bolle Eis: Bornholmer Strasse 14A
22. – 24. November 2018
Eröffnung: Donnerstag. 22. November 2018
Exquisite Corpse
Donau Ecke Ganghofer: Ganghofer Str. 6
9. – 24. November 2018
In drei Ausstellungen, die parallel in den Projekträumen uqbar, Bolle Eis und Donau Ecke Ganghofer stattfinden, reflektieren die Künstlerinnen Perry Burlingame, Samantha Corbett, Laurence Hervieux-Gosselin und Megan G. King TeilnehrmerInnen des Berlin Residency Programms, die Formbarkeit von Identität im heutigen sozialen Klima. In ihren Arbeiten befassen sich die Künstlerinnen mit Themen wie Sexualität, Geschlechterpolitik, Familiengeschichte und Stereotypen. Ausgestellt werden Skulptur, Video, Fotografie, Installation und gefundene Objekte, die sich zu einer Sammlung von Artefakten und Zukunftsfragen vereinen.
Die Skulpturen von Perry Burlingame (New York) untersuchen, wie sich unsere Sexualitäten ausbilden. Die Künstlerin setzt sich mit den soziokulturellen Normen auseinander, die dazu beitragen, wie sich sexuelle Identitäten entwickeln und unterdrückt werden, insbesondere mit Blick auf die Zeit der Adoleszenz. Fragwürdige Erzählungen aus ihrer Vergangenheit und persönlichen Erinnerungen verbinden sich mit Fragen nach der "Reinheit" der Frau, Selbstachtung und der Vorstellung von "natürlichen" Sexualverhaltensweisen. Burlingame nutzt visuelle Elemente aus dem Pferdesport, Videospielen und von intimen Aktionen im öffentlichen Raum, um Umgebungen zu schaffen, in denen sich Freude, Frustration, Verwundbarkeit und Stärke mischen.
Samantha Corbett (Minnesota) schafft Installationen, die Zeit als Thema und Material nutzen. Resultat ihrer Untersuchung der Sprache der Poesie ist ein skulpturales Archiv entstanden, das in einer ortsspezifischen Installation in der Donau Ecke Ganghofer zu sehen ist. Bei uqbar und Bolle Eis präsentiert Corbett ein modifiziertes Erbstück, das Familientraditionen und genetische Geschichte in Frage stellt: eine Decke aus Kupfer, einem Material, das bei Berührung anläuft und schließlich rostet.
Laurence Hervieux-Gosselins (Montreal) Fotografien und Installationen erkunden die Schwelle zwischen Realität und Fiktion. Aus gefundenen Fotografien von Alltagsaktivitäten schafft die Künstlerin nichtlineare Erzählungen. Dabei lenkt sie den Blick auf die Spannung zwischen Humor und Unheimlichkeit, die den Szenen innewohnt. In den drei Ausstellungen präsentiert Hervieux-Gosselin gefundene Fotografien, die in der Wohnung einer älteren Frau aufgenommen wurden, und deren Alltag mit ihrer Perserkatze dokumentieren. Bei uqbar und Bolle Eis werden die Originalfotos als Geschlossene-Gesellschafts-Erzählung -präsentiert. Bei Donau Ecke Ganghofer reagiert Hervieux-Gosselin auf die Ladenfläche, indem sie eine Auswahl der Katzenfotos in Postergröße aufbläst und dabei sowohl die niedliche Absurdität als auch die dunkleren Untertöne offenbart.
Das Interesse von Megan G. King (Tennessee) an Sozialer Ökologie manifestiert sich in ihrer Untersuchung sozialisierter Identität. Die Künstlerin verwendet zerlegte Kleidungsstücke, Schnüre und die verfügbaren Konstrukte eines Raums für ihre Installationen, die gesellschaftliche Erwartungen von "Weiblichkeit" in Frage stellen. Die Materialien werden von ihrer ursprünglichen Form und Funktion getrennt, gedehnt und mit zweckmäßig befestigt. Die hängenden, textilen Architekturen sind der physische Ausdruck von Kings Versuch, die Mythen von der Realität geschlechtsspezifischer Konstrukte zu lösen.
Berlin Residency
Berlin Residency ist eine Initiative des College of Visual and Performing Arts der Syracuse University. Berlin Residency dient als Brücke zwischen akademischem Studium und künstlerischer Laufbahn und bietet Studiobesuche mit lokalen KünstlerInnen, KuratorInnen und AutorInnen sowie zahlreiche Ausstellungsmöglichkeiten, um die Entwicklung von künstlerischen Praktiken und wesentlichen beruflichen Fähigkeiten zu fördern. Das Programm wird vom dem Künstler und Lehrenden Daniel Seiple in Zusammenarbeit mit ProfessorInnen Laura Heyman und Sam Van Aken von der Syracuse University organisiert.
Berlin Residency befindet sich in den Räumlichkeiten der FAHRBEREITSCHAFT der Haubrok Foundation in Berlin-Lichtenberg. Für Öffnungszeiten siehe @studio49fahrbereitschaft auf Instagram.
---