MUTTERZUNGE: afterword – Billy Apple®, Mehtap Baydu, Marysia Lewandowska
---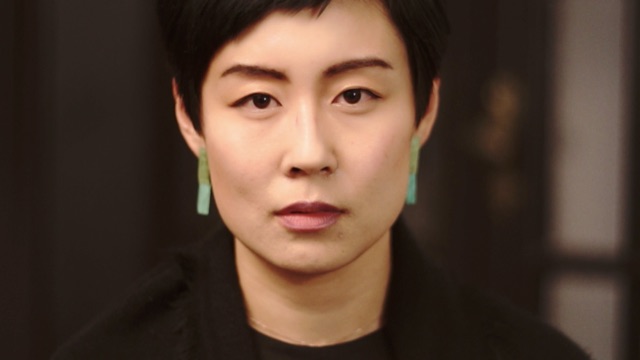 Opening
Thursday, December 6, 2018, 7 pm
Screening und Diskussion
December 6, 2018, 8 pm
Running time
December 6, 2018 – January 10, 2019
Opening hours
Thursday – Friday 5 – 7pm, Saturday 3 – 5 pm
"I am a word-collector.", MUTTERZUNGE | Großvaterzunge, Emine Sevgi Özdamar
A one year long programming of workshops, events and installations that Misal Adnan Yildiz dedicated to Emine Sevgi Özdamar's Mutterzunge is coming to an end with a publication in progress and a compact series of events. In addition to Cafe Warschau, nbk studio, Apartment Project and Babylon, our promenade in Berlin City now enriches with uqbar and COPYRIGHTberlin in Wedding from December 6, 2018 until February 22, 2019. The series of events starts with two solo presentation of works by Billy Apple® and Mehtap Baydu at uqbar and COPYRIGHTberlin and a screening of Rehearsing the Museum by Marysia Lewandowska followed by a discussion at Kronenboden. The complete programme will include contributions by Khaled Barrakeh, Savaş Boyraz, Erkan Özgen, Mohammad Salemy, Cengiz Tekin, Rojda Tuğrul among others.
The film Rehearsing the Museum combines the idea of financial speculation with speculative fiction as an artistic tool, structured as a distributed cabinet of curiosities. Collaboratively scripted with the Taiwanese Beijing-based writer Zian Chen, the work follows on from a two-year research project at the Asia Art Archive in Hong Kong. Filmed at KODE Museum in Bergen, Shanghai and Beijing, and containing additional archival footage, the narrative unfolds through a dialogue between two women whose diverse backgrounds and aspirations expose sensitivities around property development and the contested ownership of museum artefacts. They reflect on the origins of the market for contemporary Chinese art, the museum boom, and the increasing pressure western museums are experiencing from strong economies, such as China, to face post-colonial consequences, linked to unresolved local histories.
With the conversations triggered by the Mutterzunge project, Berlin-based artist Mehtap Baydu revisits her home village in Bingöl, Eastern Anatolia. The village is known by its two names, Sudüğünü in Turkish, and Mazrê/Mêlkun in Kurdish. Drawing on her Kurdish roots and family relationships, she films Dêrık, a Kurdish tradition of lament. This private, personal element of oral tradition is performed only by women. The artist stages each performance in settings which each subject feels is safe as a space of intimacy: a living room, kitchen or garden becomes a platform for their improvised lyrics, which include personal, critical and satirical anecdotes about their everyday life, human relationships, nature, the land, belonging and local politics. This project is co-produced as a collaboration with Badischer Kunstverein, co-curated by Didem Yazıcı and presented also a video installation in the Waldstraßensaal at Badischer Kunstverein last summer.
Basic Needs (2014) is part inventory, part signifier sourced from the United Nations list of basic human needs. It was initially produced for a global benefit art auction for displaced Kobanê refugees and via them then director of Artspace, Auckand, Misal Adnan Yildiz invited Apple to contribute. Basic Needs has since been a significant point of reference for the Mutterzunge project, and was translated into four languages for Mutterzunge: Seeing and Hearing, an off-site exhibition at Apartment Project, Berlin. Yildiz clearly points out the connections between these organisations and the artist's biography: After graduating as one of the pop generation from the Royal College of Art, London in 1962, Apple moved across the Atlantic to New York and was curated into the groundbreaking American Supermarket, (Bianchini Gallery, 1964) then opened APPLE at 161 West 23rd Street, NYC, in 1969 the second of the seven not-for-profit spaces that established New York's Conceptual Art movement.
Revisiting Berlin-based author 'Emine' Sevgi Özdamar's book of the same name—in her own city—this proposal by Misal Adnan Yildiz was one of the winners of the Curate Award. The international jury selected three winning projects in August 2014 out of a large number of submitted proposals from 63 different countries. The Curate Award, an international competition promoted by Fondazione Prada and the Qatar Museums launched in May 2013 aims to find new curating talent and bring about original perspectives in exhibition-making.
For further informations see
www.mutterzunge.org
Eröffnung
Donnerstag, 6. Dezember 2018, 19 Uhr
Screening und Diskussion
6. Dezember, 20 Uhr
Laufzeit
6. Dezember 2018 – 19. Januar 2019
Öffnungszeiten
Donnerstag – Freitag, 17 – 19 Uhr,
Samstag 15 – 17 Uhr
"Ich bin Wörtersammlerin.", MUTTERZUNGE | Großvaterzunge, Emine Sevgi Özdamars
Das einjährige, von Misal Adnan Yildiz zusammengestellte Programm aus Workshops, Veranstaltungen und Installationen, die Emine Sevgi Özdamars Mutterzunge gewidmet sind, endet mit einer noch im Entstehen begriffenen Publikation und einem kompakten Veranstaltungsprogramm. Nach Cafe Warschau, nbk studio, Apartment Project und Babylon setzt sich unser Streifzug durch die Stadt Berlin vom 6. Dezember 2018 bis zum 22. Februar 2019 mit uqbar und COPYRIGHTberlin im Wedding fort. Das Programm beginnt mit zwei Einzelpräsentationen von Billy Apple® und Mehtap Baydu bei uqbar und COPYRIGHTberlin und einem Screening von Rehearsing the Museum von Marysia Lewandowska mit anschließender Diskussion bei Kronenboden. Das komplette Programm umfasst Beiträge von Khaled Barrakeh, Savaş Boyraz, Erkan Özgen, Mohammad Salemy, Cengiz Tekin und Rojda Tuğrul und anderen.
Der Film Rehearsing the Museum verbindet Finanzspekulation mit spekulativer Fiktion als künstlerischem Werkzeug und hat die Struktur eines über mehrere Orte verteilten Kuriositätenkabinetts. Die Arbeit entstand im Anschluss an ein zweijähriges Forschungsprojekt am Asia Art Archive in Hongkong in Zusammenarbeit mit dem taiwanesischen Schriftsteller Zian Chen aus Peking. Die im KODE Museum in Bergen, Shanghai und Peking gedrehte Erzählung, die zusätzliches Archivmaterial enthält, entfaltet sich im Dialog zwischen zwei Frauen. Vor ihren jeweils unterschiedlichen Hintergründen und Aspirationen decken sie Empfindlichkeiten bezüglich Immobilienentwicklung und dem umstrittenen Besitz von Museumsartefakten auf. Sie stellen Überlegungen an zu den Ursprüngen des Marktes für zeitgenössische chinesische Kunst, dem Museumsboom und dem zunehmenden Druck, den westliche Museen von starken Volkswirtschaften wie China erfahren, sich den postkolonialen Folgen, die mit ungelösten lokalen Geschichten verbunden sind, zu stellen.
Vor dem Hintergrund der Gespräche im Rahmen des Mutterzunge-Projekts besuchte die Berliner Künstlerin Mehtap Baydu ihr Heimatdorf in Bingöl, Ostanatolien. Das Dorf ist auf Türkisch unter Sudüğünü und auf Kurdisch unter Mazrê/Mêlkun bekannt. Unter Rückgriff auf ihre kurdischen Wurzeln und familiären Beziehungen filmt sie Dêrık, einen traditionellen kurdischen Klagegesang, der als privates, persönliches Ritual aus mündlicher Überlieferung nur von Frauen praktiziert wird. Die Künstlerin inszeniert jede Darbietung in einem Setting, das für die jeweilige Frau einen intimen Raum darstellt: Ein Wohnzimmer, eine Küche oder ein Garten wird zur Plattform für ihre improvisierten Texte aus persönlichen, kritischen und satirischen Anekdoten über ihren Alltag, menschliche Beziehungen, Natur, Land, Zugehörigkeit und lokale Politik. Das Projekt ist eine Kooperation zwischen Mutterzunge und dem Badischen Kunstverein.
Basic Needs (2014) ist teils Inventarliste, teils Bedeutungsträger und hat seinen Ursprung in dem Verzeichnis grundlegender menschlicher Bedürfnisse der Vereinten Nationen. Die Arbeit wurde zunächst für eine globale Benefiz-Kunstauktion für Kobanê-Flüchtlinge produziert, zu der der damalige Direktor des Artspace Auckland, Misal Adnan Yildiz, Apple einlud, einen Beitrag zu leisten. Basic Needs ist seither ein wichtiger Bezugspunkt für das Projekt Mutterzunge und wurde für die Off-Site-Ausstellung Mutterzunge: Seeing and Hearing bei Apartment Project Berlin in vier Sprachen übersetzt. Yildiz verweist explizit auf die Zusammenhänge zwischen diesen Organisationen und der Biographie des Künstlers: Nach seinem Abschluss als einer der Pop-Generation am Royal College of Art, London, zog Apple 1962 über den Atlantik nach New York und wurde in den bahnbrechenden American Supermarket (Bianchini Gallery, 1964) eingeladen; 1969 eröffnete er APPLE in der 161 West 23rd Street, NYC, den zweiten der sieben non-profit Räume, die die New Yorker Konzeptkunstbewegung begründeten.
Misal Adnan Yildiz's Vorschlag das Buch der in Berlin lebenden Autorin Emine Sevgi Özdamar – in ihrer eigenen Stadt – aufzugreifen, wurde mit dem Curate Award ausgezeichnet. Aus einer Vielzahl von eingereichten Vorschlägen aus 63 Ländern wählte die internationale Jury im August 2014 drei Gewinnerprojekte aus. Der im Mai 2013 ins Leben gerufene Curate Award,der von der Fondazione Prada und dem Qatar Museum gefördert wird, zielt darauf ab, neue kuratorische Talente und originelle Perspektiven im Ausstellungsbetrieb zu fördern.
Weitere Informationen siehe
www.mutterzunge.org
---