MUTTERZUNGE: afterword – Egemen Demirci, Şener Özmen
---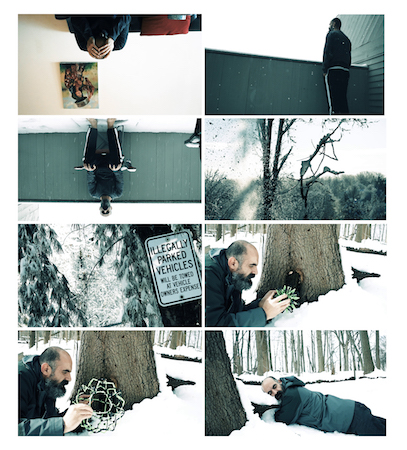 Opening
Thursday, January 24, 2019, 7 pm
Duration
January 24 – February 2, 2019
Opening hours
Thursday – Friday 5 – 7pm, Saturday 3 – 5 pm
"I am a word-collector.", MUTTERZUNGE | Großvaterzunge, Emine Sevgi Özdamar
A one year long programming of workshops, events and installations that Misal Adnan Yildiz dedicated to Emine Sevgi Özdamar's Mutterzunge is coming to an end with a publication in progress and a compact series of events. In addition to Cafe Warschau, nbk studio, Apartment Project and Babylon, our promenade in Berlin City now enriches with uqbar and COPYRIGHTberlin in Wedding from December 6, 2018 until February 22, 2019. The series of events continues with two solo presentation of works by Egemen Demirci at uqbar and Şener Özmen at COPYRIGHTberlin.
Carbon by Egemen Demirci, uqbar

If language can also be regarded as code (or coding system), then it is only reasonable to ask that question: "What does language hide inside its logic and structure?" Berlin based artist Egemen Demirci deals with this question through generating poetics for spatial thoughts. He suggests to look at a grammar structure as a form of proposition composed of coal letters.
By his way of thinking, code conceals and formulates at the same time. It masks, tucks away and obscures the reality of what is there but also it formulates its substitution, foundation and sources. As long as we try to define experience, knowledge or wisdom -within a process of perception, we will always end up with substitutes, with replacements and with a reserved world. The complexities of codes give clues to the resources, which are available to the operation and the intentions of communication at those moment of its inception.
The Day I Saved The Kurds by Şener Özmen, COPYRIGHTberlin

Between New York, Berlin and Diyarbakır, Şener Özmen has been redefining his long term commitment with literature, contemporary art and film during last couple of years with an interest on politics of poetry. Özmen's The Immigrant is a photographic image taken at the Edgewater of New Jersey in 2018 -within a trapezoid angle focusing on a provocative question regarding the global winds of right wing politics. The artist states that the West is not yet satisfied with the myth of Frankenstein. Is the next freak The Immigrant? And is he now just enjoying the skyscrapers?
Özmen's The Day I Saved The Kurds, is a short film produced for Mutterzunge. Departing from a nightmare, which belongs neither to him nor his mother, the film narrates moments of visual poetry through several references, a Hoberman Sphere, an old tree among others within snowy landscapes and gloomy environments. At each chapter of this short story -written as a form of visual poetry we hear the strong voice of the artist, strong and intriguing… He reads a poem in his native language, stating that what he was searching for - the freedom but for no reason - and it disappeared beyond a collapsed, shrunken and folded image of itself.
Next Opening
February 7, 2019, 7 pm
with Savaş Boyraz and Khaled Barrakeh
---