MUTTERZUNGE: afterword – Egemen Demirci, Şener Özmen
---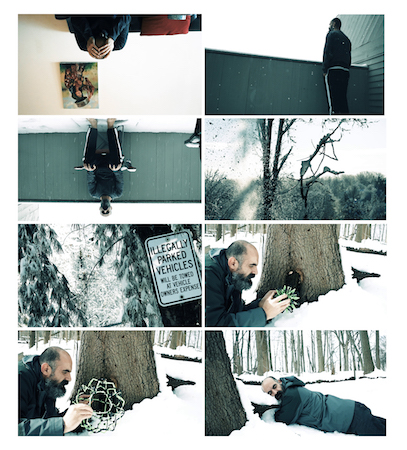 Opening
Thursday, January 24, 2019, 7 pm
Duration
January 24 – February 2, 2019
Opening hours
Thursday – Friday 5 – 7pm, Saturday 3 – 5 pm
"I am a word-collector.", MUTTERZUNGE | Großvaterzunge, Emine Sevgi Özdamar
A one year long programming of workshops, events and installations that Misal Adnan Yildiz dedicated to Emine Sevgi Özdamar's Mutterzunge is coming to an end with a publication in progress and a compact series of events. In addition to Cafe Warschau, nbk studio, Apartment Project and Babylon, our promenade in Berlin City now enriches with uqbar and COPYRIGHTberlin in Wedding from December 6, 2018 until February 22, 2019. The series of events continues with two solo presentation of works by Egemen Demirci at uqbar and Şener Özmen at COPYRIGHTberlin.
Carbon by Egemen Demirci, uqbar

If language can also be regarded as code (or coding system), then it is only reasonable to ask that question: "What does language hide inside its logic and structure?" Berlin based artist Egemen Demirci deals with this question through generating poetics for spatial thoughts. He suggests to look at a grammar structure as a form of proposition composed of coal letters.
By his way of thinking, code conceals and formulates at the same time. It masks, tucks away and obscures the reality of what is there but also it formulates its substitution, foundation and sources. As long as we try to define experience, knowledge or wisdom -within a process of perception, we will always end up with substitutes, with replacements and with a reserved world. The complexities of codes give clues to the resources, which are available to the operation and the intentions of communication at those moment of its inception.
The Day I Saved The Kurds by Şener Özmen, COPYRIGHTberlin

Between New York, Berlin and Diyarbakır, Şener Özmen has been redefining his long term commitment with literature, contemporary art and film during last couple of years with an interest on politics of poetry. Özmen's The Immigrant is a photographic image taken at the Edgewater of New Jersey in 2018 -within a trapezoid angle focusing on a provocative question regarding the global winds of right wing politics. The artist states that the West is not yet satisfied with the myth of Frankenstein. Is the next freak The Immigrant? And is he now just enjoying the skyscrapers?
Özmen's The Day I Saved The Kurds, is a short film produced for Mutterzunge. Departing from a nightmare, which belongs neither to him nor his mother, the film narrates moments of visual poetry through several references, a Hoberman Sphere, an old tree among others within snowy landscapes and gloomy environments. At each chapter of this short story -written as a form of visual poetry we hear the strong voice of the artist, strong and intriguing… He reads a poem in his native language, stating that what he was searching for - the freedom but for no reason - and it disappeared beyond a collapsed, shrunken and folded image of itself.
Eröffnung
Donnerstag, 24. Januar 2019, 19 Uhr

Laufzeit
24. Januar – 2. Februar 2019

Öffnungszeiten
Donnerstag – Freitag, 17 – 19 Uhr, Samstag 15 – 17 Uhr

"Ich bin Wörtersammlerin." MUTTERZUNGE | Großvaterzunge, Emine Sevgi Özdamars

Das einjährige, von Misal Adnan Yildiz zusammengestellte Programm aus Workshops, Veranstaltungen und Installationen, die Emine Sevgi Özdamars Mutterzunge gewidmet sind, endet mit einer noch im Entstehen begriffenen Publikation und einem kompakten Veranstaltungs-programm. Nach Cafe Warschau, nbk studio, Apartment Project und Babylon setzt sich unser Streifzug durch die Stadt Berlin bei uqbar und COPYRIGHTberlin im Wedding mit zwei Einzelausstellungen von Egemen Demirci und Şener Özmen fort.

Carbon von Egemen Demirci, uqbar

Wenn Sprache auch als Code (oder Kodierungssystem) betrachtet werden kann, ist es nur konsequent folgende Frage zu stellen: "Was verbirgt Sprache in ihrer Logik und Struktur?" Die Auseinandersetzung des Berliner Künstlers Egemen Demirci mit dieser Frage besteht darin, eine Poetik für Gedankenräume zu entwickeln. Dafür schlägt er vor, Grammatik als Strukturangebot zu betrachten, das sich aus einzelnen Buchstaben zusammensetzt.

Seinem Ansatz zu Folge verbirgt und gestaltet Code gleichzeitig. Code maskiert, versteckt und verschleiert die Realität des Vorhandenen, legt aber auch seine Stellvertreterfunktion, sein Fundament und seine Quellen offen. Solange Erfahrung, Wissen oder Weisheit innerhalb eines Wahrnehmungsprozesses definiert werden, wird es immer beiSubstituten, Platzhaltern und einer vordefinierten Welt bleiben. Die Komplexität der Codes verweist auf die Ressourcen, die der Operation zur Verfügung stehen und von Anfang an auch auf das Ziel der Kommunikation.

The Day I Saved The Kurds von Şener Özmen, COPYRIGHTberlin

Zwischen New York, Berlin und Diyarbakır lebend, hat Şener Özmen seinen langjährigen Arbeitsschwerpunkt von Literatur, zeitgenössischer Kunst und Film hin zu einer Politik der Poesie verlagert. Özmens The Immigrant besteht aus einer Fotografie, die 2018 am Edgewater in New Jersey aufgenommen wurde - in einem trapezartigen Winkel. Er stellt darin die provokante Frage nach den globalen Strömungen rechter Politik. Der Künstler kommt zu dem Schluss, dass der Westen noch nicht zufrieden ist mit dem Frankenstein-Mythos. Ist der nächste Freak The Immigrant? Und findet er jetzt gerade Gefallen an Wolkenkratzern?

Özmens The Day I Saved The Kurds (deutsch: Der Tag, an dem ich die Kurden rettete)ist ein Kurzfilm, der für Mutterzungeproduziert wurde. Ausgehend von einem Albtraum, der weder dem Künstler noch seiner Mutter gehört, besteht der Film aus einem Reigen von Bildern visueller Poesie, die sich auf verschiedene Referenzen beziehen, eine Hoberman Sphere und einen alten Baum, der unter anderem in verschneiten Landschaften und düsteren Umgebungen auftaucht. Die Bilder werden von der Stimme des Künstlers begleitet, stark und fesselnd... Er liest ein Gedicht in seiner Muttersprache und sagt, dass das, wonach er gesucht habe, die Freiheit sei, aber ohne Grund – und dass sie hinter einem zusammengebrochenen, geschrumpften und gefalteten Bild ihrer selbst verschwand.
---