Knock Down the Duvet
---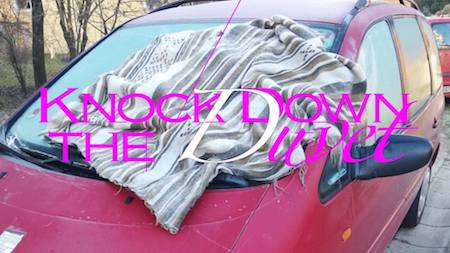 Künstler*innen
Sarah Rosengarten, Mania Godarzani-Bakhtiari, Noah Lichtblau, George Demir, Anastasio Mandel, Florian Mehmeti Löffler, Stefan Cantante, leo, Annkathrin Kluss, Lukas Kostyra, Esra Nagel, A.S.S. Collective, Nicolina Eklund, Max Göran, You Gu, Stanya Kahn & Harry Dodge, Jascha Bernhard

Kuratiert von
Esra Nagel, Florian Mehmeti Löffler, Annkathrin Kluss, Lukas Kostyra

Eröffnung
5. Juli 2019, 19 h
Laufzeit
6. Juli – 4. August 2019
Öffnungszeiten
Samstag 14 – 19 h, Sonntag 12 – 15 h
und nach Vereinbarung
Austellungsorte
uqbar, COPYRIGHTberlin, Kronenboden
Schwedenstr. 16, 13357 Berlin
Ich muss bestimmte Dinge wissen ... genug, um eine Entscheidung zu treffen ... aber vielleicht nicht alles. Die Beziehung zwischen Körper und Prägung, Körper und Gesellschaft, Körper und Sprache, Körper und und und ... Ist eine (Bett-)Decke eine Bühne oder eher eine Kulisse? Huh ?! Dann döse ich wieder ein. zzZzzZzzZzz. Ein Strom von ungeordneten Bildern läuft in meiner Phantasie ab. Verworfene Haare und Fingernägel vermischen sich mit Kekskrümeln und Zigarettenstummeln. Kann ich ein Schmetterling werden, wenn ich mich in eine Bettdecke einwickele wie ein Burrito?
Aus der Position unter der Decke heraus wollen wir Komplexitäten und Verwicklungen von Identitätskonstruktionen berühren, fühlen, abstreifen und aufbrechen. Die Decke dient als Mittel, um über die Verflechtungen von Substanzen und Räumen des Privaten und Öffentlichen sowie über ihre von der Gesellschaft festgelegten Rahmen zu sprechen. Die Decke als Ort des Widerstands, der Opposition, des Mäanderns, des Aufdeckens, der Perversionen, der Komödie, des "Normalen", des Versteckens, der Zusätze, der Leihmutterschaften, des fragmentierten Holismus und des Unvollständigen.
Artists
Sarah Rosengarten, Mania Godarzani-Bakhtiari, Noah Lichtblau, George Demir, Anastasio Mandel, Florian Mehmeti Löffler, Stefan Cantante, leo, Annkathrin Kluss, Lukas Kostyra, Esra Nagel, A.S.S. Collective, Nicolina Eklund, Max Göran, You Gu, Stanya Kahn & Harry Dodge, Jascha Bernhard

Curated by
Esra Nagel, Florian Mehmeti Löffler, Annkathrin Kluss, Lukas Kostyra
Opening
July 5, 2019, 7 p.m.
Duration
July 6 – August 4, 2019
Opening hours
Sat 2 – 5 p.m., Sun 12 – 3 p.m. a
nd on appointment
Venues
uqbar, COPYRIGHTberlin, Kronenboden
Schwedenstr. 16, 13357 Berlin
I have to know certain things ... enough to make a decision... but maybe not everything. The relationship between body and imprint, body and society, body and language, body and and and... Is a blanket a stage or rather a setting? Huh?! Then I was dozing off again. zzZzzZzzZzz. A stream of disordered images runs in my fancy. Abjected hairs and fingernails mingling with cookie crumbles and cigarette buds. Can I become a butterfly if I wrap myself in a duvet burrito?
Lurking from under the covers, we want to touch, feel, strip and scratch complexities and entanglements of identity constructions. The blanket serves as device to talk about interweaving substances and spaces of the private and public, as well as their frames set by society - localizing the blanket as a space of resistance, opposition, meandering, uncovering, perversions, comedy, "normal", hiding, additives, surrogates, fragmented holism, the incomplete.
---