Transient Spaces - An Introduction
---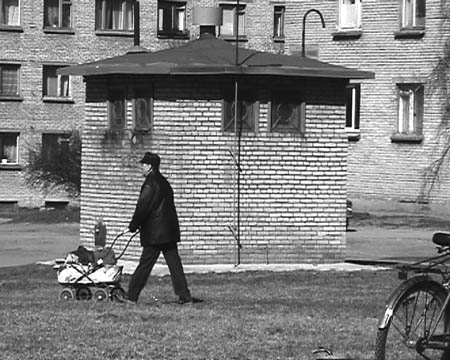 An exhibition within the frame of the contemporary art festival KaunasInArt
curated by Marina Sorbello and Antje Weitzel
Artists Eléonore de Montesquiou, J&K, Romana Schmalisch
Opening Thursday, December 11, 2008, 6 p.m.
Duration December 12, 2008 – January 31, 2009
Gallery Meno parkas, Rotušės a. 27, Kaunas, Lithuania


Transient Spaces – An Introduction is the first in a series of exhibitions and events focusing on current concepts of space as well as new forms of mobility and life today.
The project Transient Spaces – The Tourist Syndrome, taking place in Italy, Lithuania, Romania and Germany 2009-2010, aims at examining transitional spaces and subjectivity concepts that emerge from current movements of goods and people and immigration politics, and looks at the proliferation of new types of social, political and cultural borders within various regions and metropolitan centres in Europe.

Transient Spaces – An Introduction in Kaunas presents works by Eléonore de Montesquiou, J&K, and Romana Schmalisch – all currently based in Berlin, but coming from different regions of Europe. In different periods of times, they all have been researching and producing works in the Baltic region. These works, never shown before in Lithuania, are on display in Kaunas.

Eléonore de Montesquiou's project Atom Cities (2005/06) portraits two Estonian towns today: Sillamäe and Paldiski, which share a very peculiar history. During the Soviet period, from 1946 until Estonia's independence in 1991, Sillamäe and Paldiski were secret towns, closed to the Estonian people. Sillamäe had been built to house Russians scientists and workers who would extract uranium and do nuclear research, whereas Paldiski was a Soviet military training centre for nuclear submarines. The day Estonia became an independent state, the Russian army walked out of Paldiski, while Sillamäe became an open city with a capitalist organisation replacing the former centralised socialist system. As a result the working conditions changed in no time, the factory was closed, and with it the very reason for this city's existence vanished. The Russian inhabitants a large majority in both cities, and Sillamäe particularly, became a minority in the independent Estonian state. Some have Estonian citizenship, others Russian passports, but most of them own a grey non-citizens' passport, and are not, or little integrated in the socio-economic life of Estonia. They don't speak the language of the country they live in and were born at, and were where life is easier than in Russia, as Estonia offers a door to Europe.
Atom Cities, realized by de Montesquiou in collaboration with Elnara Taidre, Helena Tulve, Tatjana Kozlova, Liis Juergens, and Aadam Kaarma, consists of films (video), a book (trilingual: Estonian, Russian, English), posters, a one hour radio piece for France Culture (Atelier de Création Radiophonique), and a blog.

The photo collage New World (2008) by J&K (Janne Schäfer and Kirsitne Agergaard) is part of the larger body of work Everything Else Is Just Another Friend You Haven't Met Yet (2007/2008), consisting of life-size three-dimensional collages, photo wallpapers and photo collages shown as prints. All collage work is based on photographic documentation and interventions performed during J&K's journeys throughout the Baltic Region in the frame of a two-month residency grant in Vilnius in spring 2007, hosted by the Contemporary Art Information Center of the Lithuanian Art Museum, and provided by the 4th Ars Baltica Triennial of Photographic Art.
The collage selected for Kaunas, isolated from the rest of the series and installed as large print, shows a landscape of new and old buildings, building sites, and socialist structures, and mysterious figures involved in mysterious shamanic rituals. J&K reinvent the surroundings and merge magic imaginary with contemporary turbo capitalism.

Romana Schmalisch's Mobile Cinema is a sculpture and a portable cinema at the same time. The object, realized initially for the exhibition Drehort Zukunft (uqbar, 2008), is a reconstruction of a film prop from Alexander Medvedkin's film The New Moscow (1938): a projection and viewing table where an engineer on his journey to Moscow presents his designs and urban visions for the new city – an object that is somewhere between urban model, cinema, and plate camera. Schmalisch developed the model with the intention of using it both in exhibition contexts and as a structure for presenting films accompanied by lectures: similar to the engineer in the film, the artist plans to travel to various places with the Mobile Cinema and to present some of her films and filmic research on urban space and urban visions. In the Kaunas exhibition the mobile cinema will present the film Dom Sovietov (2004, co-author: Robert Schlicht), which focuses on a building in Kaliningrad, the House of Soviets, situated at the centre of the city, in the spot where the former castle of Koenigsberg stood. The Dom Sovietov, started in the 60s, was never finished and ever since stands as an empty ruin in the centre of the city. The inhabitants call it "our monster". Especially since the end of the Soviet Union, the future of the building and the site is an issue of discussion: While some plead for the reconstruction of the former Koenigsberg castle, others want to impart a new function to the Dom Sovietov. The building reflects in complex way Kaliningrad's historic and social structures and, in a paradoxical way, marks a blind spot in the centre of the city.
---