Marisa Maza -
---


*** German version below ***
Opening Wednesday, January 21, 2009, 7 p.m.
Duration January 22 – February 21, 2009

The exhibtion by Berlin artist Marisa Maza (* in Madrid, Spain, lives and works in Berlin) continues the series of exhibitions on spatial concepts and contemporary architecture taking place at uqbar project space and is a Partner Event of club transmediale.09 – STRUCTURES, that takes place January 23 – 31, 2009 at Maria am Ostbahnhof, Berlin.
<training_sculpture> deals with the relationship between space, gender and the body, in the context of sports. Maza presents new works, developed with female athletes of the University of Florida, USA in 2008, against the backdrop of the Olympics. The videoworks show a scenery far from the common media coverage that usually just show the end result of a long process of exercise. The artist instead focuses on the training situation in order to reveal the imperfections, the endless repetiton, the physical work that precede the contest situation. The first two videos, <training_sculpture #1, #2> (gymnastics and diving), that are on show at uqbar, demonstrate how the space of a training hall is defined by the movements of the athletes' bodies: Space is treated here as being static, like a "visual sculpture". The artist combines the two videos with a life-size potrait of a diver that she places in the shop window of the exhibition space.
The videos <training_sculpture (with ball) #3, #4> (tennis & softbasketball) are shown in a screeing situation together with the others of the series during the festival at Maria am Ostbahnhof. Here the distance between the observer and the athletes' bodies becomes dissolved: The camera is focusing closely on the athletes' bodies that are moving in and out of the picture, the importance and presence of the surrounding space are lost. Each video is complemented by a soundtrack composed by jayrope, Berlin, based on the original sound.
Exhibition view

For further information see: www.clubtransmediale.de
Eröffnung Mittwoch, 21. Januar 2009, 19 h
Laufzeit 22. Januar – 21. Februar 2009

Die Ausstellung der Berliner Künstlerin Marisa Maza (* in Madrid, Spanien, lebt und arbeitet in Berlin) führt uqbars Ausstellungsreihe zu Raumkonzepten und zeitgenössischer Architektur fort und ist ein Partner Event des club transmediale.09 – STRUCTURES statt, der vom 23. – 31. Januar 2009 in der Maria am Ostbahnhof, Berlin, stattfindet.
<training_sculpture> setzt sich mit dem Verhältnis Raum, Körper und Geschlecht in der Welt des Sports auseinander. Maza stellt in der Ausstellung neuere Arbeiten vor, die in Zusammenarbeit mit US-amerikanischen Sportlerinnen vor dem Hintergrund der Olympiade 2008 an der University of Florida, USA, entstanden sind. Die Videoarbeiten bewegen sich fern der üblichen Medienberichterstattung, die in erster Linie ereignisorientiert arbeitet und nur das Endprodukt eines langwierigen, unaufhörlichen Trainingsprozess zeigen. Die Künstlerin stellt dagegen die Trainingssituation und damit die Fehlversuche, die endlosen Wiederholungen und die physische Arbeit in den Mittelunkt, die der Wettkampfsituation vorausgehen. Die ersten zwei Videos der Serie <training_sculpture #1, #2> (Turnen und Turmspringen), die bei uqbar gezeigt werden, veranschaulichen, wie sehr der statische Raum der Sporthalle von den Bewegungen der athletischen Körper bestimmt wird. Diese beiden Videos kombiniert die Künstlerin mit dem lebensgroßen Portrait einer Trumspringerin im Schaufenster des Ausstellungsraums. Die Videos <training_sculpture #3, #4> (Tennis und Softbasketball) werden zusammen mit den ersten zwei Videos der Serie während des Festivals in der Maria am Ostbahnhof päsentiert. Die Kameraeinstellung ist in diesen Videoarbeiten statisch. Die Athleten bewegen sich in Nahaufnahme in und aus dem gewählten Bildausschnitt heraus, so dass der Raum und die Umgebung in den Hintergrund treten. Die einzelnen Videos werden von Soundtracks des Berliner Musikers jayrope begleitet, die auf den Original Tonaufnahmen beruhen.
Ausstellungsansicht

Weitere Infos finden Sie unter: www.clubtransmediale.de
Exhibition view | Ausstellungsansicht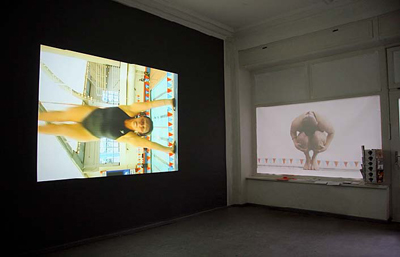 ---