Anu Pennanen - A Day in the Office
---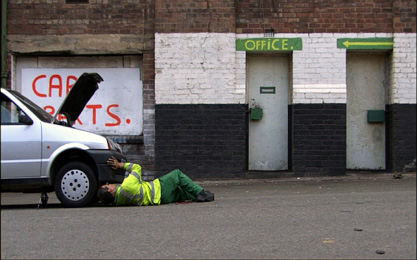 *** English version below ***
Eröffnung Samstag, 2. Juni 2007, 19 Uhr

Laufzeit 2. Juni – 23. Juni 2007

Artist talk Montag, 11. Juni 2007, 20 Uhr

Von Juni bis Oktober 2007 stellt uqbar in Kooperation mit der 4. Ars Baltica Trienniale der Fotokunst Don't Worry – Be Curious! 4 KünstlerInnen aus dem Ostseeraum vor, die in ihren Arbeiten auf unterschiedliche Weise über gegenwärtige gesellschaftliche Umbrüche und dadurch hervorgerufene Ängste und Probleme sprechen.
Den Anfang macht die finnische Künstlerin Anu Pennanen (*1975, lebt in Helsinki). In ihrer ersten Berliner Ausstellung präsentiert sie die Video Installation A Day in the Office (dt.: "Ein Tag im Büro"), die ursprünglich im Rahmen der Liverpool Biennale International 06 entwickelt wurde und die aktuellen urbanen und sozialen Entwicklungen in Liverpool zum Ausgangspunkt nimmt. Im Zentrum der Arbeit stehen Bürogebäude, Ikonen des ökonomischen Wohlstands in westlichen Metropolen, und die Menschen, die darin arbeiten. Um neue Unternehmen anzuziehen und die Wirtschaft zu beleben, wird viel gebaut. Bürogebäude schießen aus dem Boden. Diese Entwicklung beeinflusst in zunehmendem Maße den Arbeitsalltag der Einwohner. Pennanen betrachtet die gegenwärtige Expansion von zwei Seiten: von Außen und von Innen heraus. Zum einen stellt sie die verfallenden Bürogebäude im ehemaligen Handelszentrum Liverpools neben die neuen Spekulationsobjekte, die plötzlich auf vormals heruntergekommenen Straßen auftauchen, und spürt so den visuellen und räumlichen Veränderungen der gebauten Realität nach. Zum anderen zeigt sie die Menschen, die in den Büros arbeiten und durch ihre physische Präsenz einen Bezug zu den Räumen herstellen. Durch die Zusammenarbeit mit den Büroangestellten ist es Pennanen gelungen, hinter die Fassaden der Gebäude zu schauen, die persönlichen Beziehungen und Geschichten zu zeigen, die Teil des Arbeitsalltags der Menschen sind. Die am Beispiel Liverpool in A Day in the Office untersuchten Phänomene stehen stellvertretend für die Entwicklung in modernen Dienstleistungsmetropolen, zu denen auch Berlin zählt.
Videostills aus A Day in the Office
Am 11. Juni 2007 stellen Anu Pennanen und Eléonore de Montesquiou (*1970, lebt in Berlin) ihre in Estland entwickelten Projekte vor, die sich mit der Situation der russischen Minderheit an der Außengrenze der Europäischen Union beschäftigen.

Anu Pennanen ist derzeit Artist–in–Residence der Stadt Frankfurt. Ihre Arbeiten A Day in the Office und Tallinn Project sind in der Ausstellung Pensée sauvage – Von Freiheit zu sehen, die parallel vom 20. Mai – 1. Juli 2007 in der Ursula Blickle Stiftung und vom 25. Mai 2007 – 08. Juli 2007 im Frankfurter Kunstverein gezeigt wird.

Weitere Informationen zur Arbeit der Künstlerin finden Sie unter www.anupennanen.com

Die 4. Ars Baltica Triennale der Fotokunst ist ein Projekt der Stadtgalerie Kiel, kuratiert von Dorothee Bienert, Kati Kivinen und Enrico Lunghi. Sie wird gefördert von dem Programm Culture 2000 der Europäischen Union, der Kulturstiftung des Bundes sowie vom Ministerpräsidenten des Landes Schleswig-Holstein und Institutionen in den Ars Baltica Partner Ländern. Weitere Informationen unter www.arsbalticatriennial.org
Opening Saturday, June 2, 2007, 7 p.m.

Duration June 2-23, 2007

Artist talk Monday, June 11, 2007, 8 p.m.
From June until October 2007 uqbar, in cooperation with the 4th Ars Baltica Triennial of Photographic Art Don't Worry – Be Curious!, is presenting 4 artists from the countries bordering the Baltic Sea whose work addresses problems and fears resulting from upheavals in present-day society.
The exhibition series starts with the Finnish artist Anu Pennanen (*1975, lives in Helsinki). In her first Berlin show, Pennanen presents the video installation A Day in the Office, which was produced for the Liverpool Biennale International 06 and deals with Liverpool's urban and social development of the last few years. The work focuses on the new office buildings, icons of economic prosperity in Western cities, and the people working in these offices. In Liverpool's rush to build offices to attract new business and stimulate the economy, office buildings have sprung up like mushrooms. Such urban developments increasingly affect the daily lives and work habits of the city's inhabitants. Pennanen looks at Liverpool's current real estate expansion from a double perspective: from the exterior and from the interior of the office buildings. On the one hand, she juxtaposes decaying office buildings, which were once at the core of Liverpool trade and commerce, with the new business centers cropping up on formerly derelict streets. In this way, she examines the changing visual and spatial language of Liverpool's built environment. On the other hand, the artist portrays the people who inhabit the offices, bringing their physical presence to bear upon these spaces. By collaborating with Liverpool office workers, the artist steps behind the facades in the city center to show the individual relationships and personal narratives that exist within workers' day-to-day experiences. Taking Liverpool as an example, A Day in the Office examines global phenomena common to the development of modern third-sector service cities like Berlin.
Video stills from A Day in the Office
On Monday, June 11, 2007, artists Anu Pennanen and Eléonore de Montesquiou (*1970, lives in Berlin) will present their respective projects developed in Estonia, which both deal with the situation of the Russian minority at the outer borders of the European Union.

Anu Pennanen is currently an artist-in-residence of the city of Frankfurt. Her works A Day in the Office and Tallinn Project are part of the exhibition Pensée sauvage—On Freedom on view at the Ursula Blickle Stiftung (Kraichtal-Unteröwisheim, May 20 – July 1, 2007) and at the Frankfurter Kunstverein (Frankfurt, May 25, 2007 – July 8, 2007).

For further information on the artist's work see: www.anupennanen.com

The 4th Ars Baltica Triennial of Photographic Art is a project of Stadtgalerie Kiel, curated by Dorothee Bienert, Kati Kivinen, und Enrico Lunghi. The project has been made possible by the support of the European Union's program Culture 2000, the German Federal Cultural Foundation as well as by the Prime Minister of Schleswig-Holstein and institutions in the Ars Baltica partner countries.
For further information see: www.arsbalticatriennial.org
Videostills | video stills A Day in the Office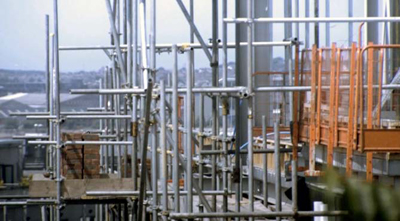 ---