Weblaunch, presentations and discussion: GenderArtNet
---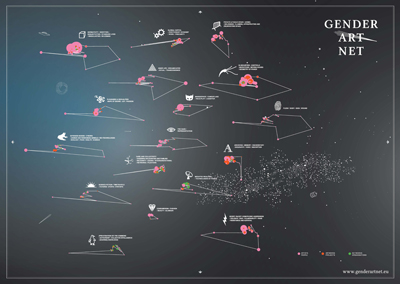 Weblaunch, presentations and discussion: GenderArtNet

Friday April 16, 2010, 4 – 8 p.m.

With contributions among others by Bettina Knaup (independent curator, Berlin), Nicolas Malevé (data activist, Constant vzw, Brussels), Maria Ptqk (independent curator, Bilbao / Berlin), Anne Quirynen (artist & professor of European Media Studies, Potsdam), Femke Snelting (artist, designer, Constant vzw, Brussels & De Geuzen, Amsterdam), Bojana Pejić (curator, Berlin).

GenderArtNet is an experimental mapping project that contextualises and connects artists, artistic practices, projects and organisations exploring the interrelation of gender, ethnicity, race, class and sexualities in contemporary Europe. Its primary aim is to thematically link the various existing online resources of feminist and queer artists, projects and networks rather than provide yet another user platform for artist profiles. By connecting existing, often remote, resources, we would like to improve their accessibility and readability while keeping the memory of feminist artistic and cultural production in the broader Europe alive. By organising this information in an experimental map, we work to provide contexts, connections, and relations between artists, artworks and networks and between geopolitics and artistic practice.

For further information see: http://genderartnet.constantvzw.be/emerge/articles/readmore/4

The presentation will take place at uqbar and will be held in English.

The project was made possible through a grant by the European Cultural Foundation, Amsterdam (ECF) and the cooperation of the European Media Studies pogramme, jointly offered by University of Potsdam and University of Applied Science Potsdam.
---