Residency: Patrick Mudekereza
---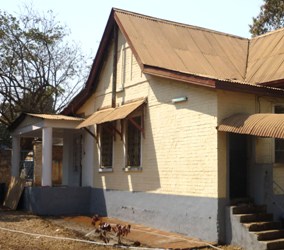 *** German version below ***

uqbar is pleased to welcome Patrick Mudekereza as resident in the frame of the international cultural manager training programme of KulturpartnerNetzwerk of the Goethe-Institute.
Patrick Mudekereza
The author and artist Patrick Mudekereza lives and works in Lubumbashi in the Democratic Republic of the Congo. From a very young age he has been involved in artistic actions and has been the initiator of numerous events and cultural infrastructure in the areas of the fine arts, music, theatre, literature and cinema. At the same time, he studied industrial chemistry at the Polytechnical Faculty of the University of Lubumbashi, where he was awarded a degree in engineering. Since 2004 Patrick Mudekereza has been professionally active in the cultural sphere. He was chief editor of the cultural journal Nzenze, general secretary of the artist group Vicanos and project manager of the young citizens' forum. For five years Mudekereza worked in the French cultural centre of Lubumbashi as programme planner, with a special focus on fine arts. Since 2008 he has been running the art centre of the association Rencontres Picha and is also a member of Arterial Network.



Im Rahmen des Kulturmanager-Programms des KulturpartnerNetzwerks des Goethe-Instituts ist Patrick Mudekereza zwei Wochen zu Gast bei uqbar.
Patrick Mudekereza
Der Schriftsteller und Kulturschaffende Patrick Mudekereza lebt und arbeitet in Lubumbashi in der Demokratischen Republik Kongo. Bereits in sehr jungen Jahren war er an künstlerischen Aktionen beteiligt und initiierte zahlreiche Veranstaltungen und kulturelle Infrastruktur in den Bereichen bildende Kunst, Musik, Theater, Literatur und Film. Parallel studierte er industrielle Chemie an der Polytechnischen Fakultät der Universität Lubumbashi und machte einen Abschluss als Bauingenieur. Seit 2004 ist Patrick Mudekereza beruflich im Kulturbereich tätig. Er war Chefredakteur des Kulturmagazins Nzenze, Generalsekretär der Künstlergruppe Vicanos und Projektleiter des Bürgerforums der Jugend. Fünf Jahre lang arbeitete Mudekereza im französischen Kulturzentrum Lubumbashi als Programmplaner, insbesondere im Bereich bildende Kunst. Seit 2008 leitet er das Kunstzentrum des Verbands Rencontres Picha und ist außerdem Mitglied im Arterial Network.

---