Katrin Lock & Tim Brotherton – The After Gertrude Stein Trilogy
---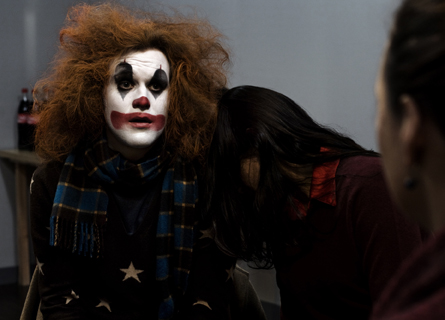 *** German version below ***

Opening Wednesday, June 22, 2011, 7 p.m.

Duration June 24 – July 23, 2011

The exhibition The After Gertrude Stein Trilogy presents photographs and video works by the artist duo Katrin Lock and Tim Brotherton in the neighbouring project spaces uqbar and Kronenboden at Schwedenstrasse 16. The artists reinterpreted Gertrude Stein's Dr. Faustus Lights the Lights through a participartory process in collaboration with young actors from Johannesburg, South Africa (Bag Factory, 2008), in Berlin (P14 youth theatre of Volksbuehne, 2009) and in Brussels (art and performance centre Beursschouwburg, 2010). The results are three very different versions of the material, and are shown as film adaptations.

In Stein's version Dr. Faustus promises his soul to the devil, if he in exchange could make Dr. Faustus the inventor of electrical light. The fulfilment Dr. Faustus was hoping for does not come about, leaving him disillusioned and disheartened. In the manner of Dadaist writing the play is open-structured. Stein creates multiple identities for her main characters, who express themselves through fragmented and disembodied voices and endless repetitions. The characters are trapped in the same frustrating inability to understand and act in a world, which is increasingly dehumanised by modernism and progressing technology.

The play with its vital questions about morality, identity, values, providence, and betrayal in modern societies was a starting point for discussions in each group. Through a particapatory process the artists and actors developed the narratives, scenes and setting in response to the following questions: How do members of a generation, who have grown up in an already globalised world position themselves within it? How are they affected by the all-present ideologies to invent and prove themselves as subjects in a neo-liberal age? How do they position themselves in a world in which the danger of unemployment on the one hand, and the ever-growing materialism, are all present and possibly shape the lives of the majority of people? The project tried to motivate the participants to express their aspirations and formulate their personal visions of the future without using the framework of commodities to signify success and wealth.

The exhibition also shows photographs of the series Smokes and Mirrors that was made in South Africa. The streets of Johannesburg are lined with posters of tabloid newspapers and their sensationalist headlines. All present they are part of everyday cityscape. In bloodthirsty headlines they mark the remaining social and racial apartheid within the South African society. In this series the posters were made into costumes and clothing. In the tradition of "tableaux vivantes" the actors from After Gertrude Stein pose in the deserted inner-city goldmines. Smokes and Mirrors refers to John Heartfield's photomontage, Those who read bourgeois newspapers will become blind and deaf. Away with these blinders!
Exhibition view

In addition to the presentations at uqbar and Kronenboden the artist duo shows art works titled Consumed Spirits at Gallery September, Charlottenstrasse 1, 10969 Berlin, from June 25 to August 13, 2011.

A cooperation with www.kronenboden.de.

Eröffnung Mittwoch, 22. Juni 2011, ab 19 Uhr

Laufzeit 24. Juni – 23. Juli 2011

Die Ausstellung The Gertrude Stein Trilogy stellt in den unmittelbar benachbarten Projekträumen uqbar und Kronenboden Foto- und Videoarbeiten des Künstlerduos Kathrin Lock und Tim Brotherton vor.
Zusammen mit jungen Schauspielern in Johannesburg, Süd-Afrika (Bag Factory, 2008), in Berlin (P14 Jugendgruppe der Volksbühne, 2009) und in Brüssel (Kunst und Performanz Center Beursshouwburg, 2010) haben die Künstler in einem partizipatorischen Prozess Gertrude Steins dadaistische Faustversion Dr. Faustus lichterloh neu interpretiert. Entstanden sind drei sehr unterschiedliche Versionen des Materials, die als filmische Adaptionen gezeigt werden.

In Steins Version der historischen Faustlegende verspricht Dr. Faustus dem Teufel seine Seele, um im Gegenzug elektrisches Licht erfinden zu können. Die Erfüllung, die sich Dr. Faustus erhofft hatte, stellt sich nicht ein und hinterlässt ihn desillusioniert und enttäuscht. Das Stück ist in dadaistischer Schreibweise offen strukturiert. Steins Charaktere sind uneindeutig und vielschichtig. Sie sprechen in Metaphern, durch Widerholungen und Anspielungen, durch fragmentierte und entkörperlichte Stimmen. Alle Charaktere sind frustriert und haben große Schwierigkeiten, sich in einer durch zunehmende Unmenschlichkeit, fortschreitende Technologisierung und Modernisierung geprägten Welt zurecht zu finden.

Mit seinen Kernfragen nach Moral, Identität, Wert und Verrat in modernen Gesellschaften diente das Stück als Ausgangspunkt der Diskussion zwischen Künstlern und Schauspielern. In einem partizipatorischen Prozess wurden Handlung, Szenen und Bühnenbild gemeinsam, aufbauend auf folgende Fragestellungen, entwickelt: Wie positioniert sich eine Generation, die in einer bereits globalisierten Welt aufgewachsen ist? Inwieweit prägen sie die allgegenwärtigen Ideologien, die vom Einzelnen erwarten, sich ständig nach den neoliberalen Paradigmen zu verbessern und neu zu erfinden? Wie positioniert sich diese Generation in einer Welt, die von Arbeitslosigkeit und einem ständig wachsenden Materialismus geprägt ist? Ziel war, Szenarien zu schaffen, in denen die Beteiligten frei über ihre Ziele und Erwartungen sprechen, ohne das allzu gegenwärtige Bezugssystem der kommerziellen Warenwelt zu benutzen.

Neben den Videoarbeiten sind Fotografien aus der in Südafrika entstandenen Fotoserie Smokes and Mirrors zu sehen. Die Straßen von Johannesburg sind gesäumt von Postern der Boulevardpresse und ihren sensationslustigen Schlagzeilen. Allgegenwärtig sind sie fester visueller Bestandteil des heutigen Stadtbildes. In sensationslüsternen Schlagzeilen markieren sie soziale Trennungslinien und rassistische Ausgrenzung innerhalb der südafrikanischen Gesellschaft. Für die Serie wurden derartige Poster zu Kleidung umfunktioniert. Die Schauspieler aus After Gertrude Stein posieren, gehüllt in diese Kleider, in stillgelegten Goldminen, die sich in der städtischen Umgebung von Johannesburg befinden. Smokes and Mirrors nimmt Bezug auf John Heartfields Fotomontage Wer Bürgerblätter liest wird dumm und taub. Weg mit den Verdummungsbandagen! von 1930.

Parallel zur Präsentation bei uqbar und Kronenboden zeigt die Galerie September, Charlottenstrasse 1, 10969 Berlin, vom 25. Juni bis 13. August 2011 weitere Foto- und Wandarbeiten des Künstlerduos unter dem Titel Consumed Spirits.

Eine Kooperation mit www.kronenboden.de.
Exhibition view | Ausstellungsansicht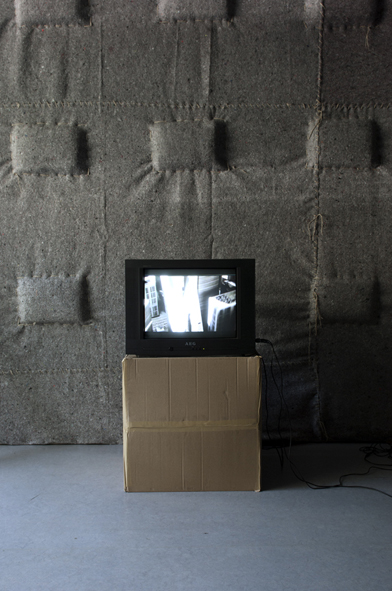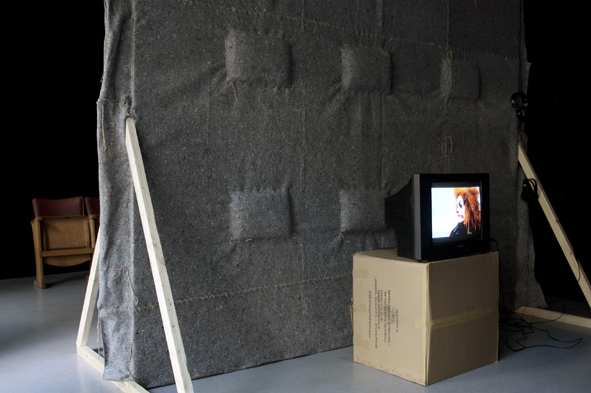 ---