Artist Talk: Patrick Mudekereza
---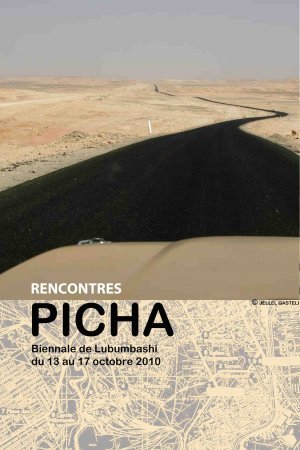 *** German version below ***

Friday, June 10, 2011, 7 p.m.

Patrick Mudekereza presents the Rencontres Picha, Biennale de Lubumbashi, DR Congo and his latest art works.
Rencontres Picha ("Picha" is the Swahili word for "photograph") was founded by Patrick Mudekereza and the photographer Sammyl Baljo in 2008 in Lubumbashi. The association organizes experimental cultural projects in cooperation with local and international artists, with the focus on visual art. Multidisciplinary projects including writing and performing arts are implemented in an innovative as well as urban context. An art centre, opened in 2010, is the driving force for these actions. Picha has organized amongst others a photo and a video biennial in Lubumbashi, which was curated by Simon Njami. Moreover, it has participated in public campaigns aimed at improving the social position of the artist in society.
10. Juni 2011, 19 Uhr

Patrick Mudekereza stellt die Rencontres Picha, Biennale de Lubumbashi, DR Kongo und seine jüngsten Arbeiten vor.
Rencontres Picha ("Picha" heißt "Foto" auf Swahili) wurde 2008 von Patrick Mudekereza und dem Fotografen Sammyl Baljo in Lubumbashi gegründet. Der Verband organisiert experimentelle Kulturprojekte in Zusammenarbeit mit lokalen und internationalen Künstlern. Dabei liegt der Schwerpunkt auf visueller Kunst. Multidisziplinäre Projekte einschließlich Schriftstellerei und darstellender Kunst werden in einem innovativen wie urbanen Kontext umgesetzt. Ein 2010 eröffnetes Kunstzentrum ist die treibende Kraft für diese Aktionen. Picha hat unter anderem eine Foto- und Videokunstbiennale in Lubumbashi, kuratiert von Simon Njami, veranstaltet und sich an öffentlichen Aktionen beteiligt, die den Stand von Künstlern innerhalb der Gesellschaft stärken sollten.
---