Natalie Czech – A Small Bouquet
---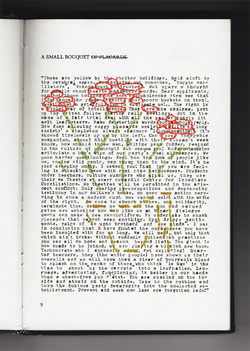 *** German version below ***

Opening Saturday, August 27, 2011 7 p.m.

Duration August 28 – September 24, 2011
In her solo exhibition at uqbar artist Natalie Czech (*1976, lives and works at Berlin) presents photographs from the series A Small Bouquet by Frank O'Hara, newly produced for a parallel show at Kunstverein Langenhagen.

The new series relates to the body of work titled Hidden Poems, that the artist has been working on since early 2010 when she was granted the Alfried Krupp von Bohlen und Halbach award for contemporary photography. Hidden Poems consists of photographic images of open pages of magazines, daily newspapers and picture books with certain words highligthed in colour. Natalie Czech searched out for texts, which allowed her to locate and to highlight poems of writers such as Robert Creeley or E.E. Cummings within the body of continuous text. Thus creating a complex system of references between the different text and image material.

For A Small Bouquet by Frank O'Hara Natalie Czech inverts this process. This time, she did not locate poems in pre-existing texts, but asked seven authors from various backgrounds to create stories around a poem itself. Andrew Berardini, Julien Bismuth, Maia Gianakos, Leslie-Ann Murray, Mick Peter, Nathania Rubin and Alix Rule wrote texts incorporating the calligram A Small Bouquet by US-American poet Frank O'Hara (1926-66) from the 1950s. At a distance one has the impression of being confronted with identical photographs of pages from a 1950s book, with a strange arrangement of flowers drawn on top. Upon closer inspection, there are seven stories inviting very different paths. What stays in common is the calligram's visual structure, which functions as a backbone highlighted by the artist by hand with color oil pastel on each print.

Again, the artist creates a complex system of references between text and image material. The labyrinthian works not only ask the viewer to activly contribute to the creation of the work but also to challenge the very idea of authorship and originality.

Works of Natalie Czech are currently to be seen at the Kunstverein Langenhagen (25.08 – 9.10.2011), at the Schaufenster of the Kunstverein Kunstverein für die Rheinlande und Westfalen, Düsseldorf and C/O Berlin (from 09.09.2011) as well as at the Kunsthaus Bregenz (16.07. – 16.10.2011).
Eröffnung Samstag, 27. August 2011, 19 h
Laufzeit 28. August – 24. September 2011

Die Künstlerin Natalie Czech (*1976, lebt und arbeitet in Berlin) zeigt in ihrer Einzelausstellung bei uqbar fotografische Arbeiten aus der Serie A Small Bouquet by Frank O'Hara, die ursprünglich für die parallel zu sehende Ausstellung im Kunstverein Langenhagen neu entwickelt wurde.
Die neue Serie ist an den Werkkomplex Hidden Poems angelehnt, an dem die Künstlerin seit Anfang 2010 arbeitet und für den sie mit dem Alfried Krupp von Bohlen und Halbach Stipendium für zeitgenössische Fotografie ausgezeichnet wurde. Die Werke dieser Reihe sind Ablichtungen von aufgeschlagenen Seiten aus Magazinen, Tageszeitungen oder Bildbänden mit farbigen Textmarkierungen. Natalie Czech hat sich dafür auf die Suche nach Texten gemacht, in denen sie Gedichte von Autoren wie Robert Creeley oder E.E. Cummings durch Markierungen im Fließtext auftauchen lässt und in ein komplexes Beziehungsgeflecht zum Ausgangsmaterial setzt.

Diesen Prozess dreht Natalie Czech für A Small Bouquet by Frank O'Hara um. Hier findet sie nicht Gedichte in schon bestehenden Texten, sondern lässt sieben Autoren mit unterschiedlichstem Background extra für und um das Gedicht herum Geschichten entwickeln. Andrew Berardini, Julien Bismuth, Maia Gianakos, Leslie-Ann Murray, Mick Peter, Nathania Rubin und Alix Rule haben Texte geschrieben, in denen das Kalligramm A Small Bouquet des US-amerikanischen Dichters Frank O'Hara (1926-66) aus dem Jahr 1950 eingebettet ist. Von Weitem kann der Eindruck entstehen, es handle sich um sieben identische Fotografien von Seiten aus einem Buch der 1950er Jahre, auf die ein seltsam anmutender Blumenstrauß gezeichnet wurde. Bei näherer Betrachtung laden einen jedoch sieben Texte auf sehr verschiedene Pfade ein. Allen gemeinsam bleibt jedoch das Bildgedicht in seiner visuellen Struktur als Gerüst, das die Künstlerin auf jedem Blatt per Hand mit Ölpastellkreiden umkreist.

Spielerisch setzt die Künstlerin auch hier unterschiedlichstes Text- und Bildmaterial miteinander in Beziehung. Ihre verschachtelten Text-Bild-Konstruktionen fordern den Betrachter, der aktiv in den Entstehungsprozess des Werkes mit eingebunden wird, und hinterfragen Konzepte von Autorenschaft und Werkbegriff.

Weitere Arbeiten von Natalie Czech sind zur Zeit zu sehen im Kunstverein Langenhagen (25.08 – 9.10.2011), im Schaufenster des Kunstvereins für die Rheinlande und Westfalen, Düsseldorf und bei C/O Berlin (ab 09.09.2011) sowie im Kunsthaus Bregenz (16.07. – 16.10.2011)
---