Emilia Badalà - Grammophon
---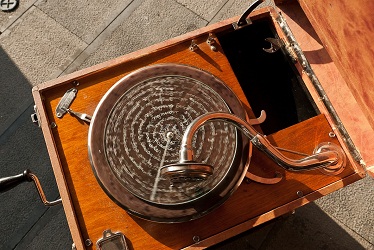 *** German version below ***

Opening Saturday, January 28, 2012, 7 p.m.

Duration January 29 – February 5, 2012

Visiting hours Sunday 29.01., Friday 3., Saturday 4., Sunday 5.02.2012, 2 – 7 p.m.

The multimedia installation Grammophon consists of a set of four gramophones and 20 glass-disks engraved with drawings by the artist. The device requires to be started mechanically by the public, creating the maintaining power and movement, which allows the disk to spin. Once activated, the installation becomes a living organism, an alive-playing and speaking body composed of different organs, connected by fine internal communications, made even more lively by the physical involvement of the audience and by the specificity of time and action of the performance.

Emilia Badalà lives and works in Catania, Hamburg and Berlin. She is currently attending the Master in Soundstudies at UDK in Berlin. Her practice is focused on sound installations and site-specific art.


Eröffnung Samstag, 28. Januar 2012, 19 Uhr

Laufzeit 29. Januar – 5. Februar 2012

Öffnungszeiten 29.01., 3. – 5.02.2012, 14 – 19 Uhr

Die Multimedia-Installation Grammophon besteht aus 4 Grammofonen und 20 Glass-Schallplatten, in welche die Künstlerin Zeichnungen eingraviert hat. Das Publikum ist aufgefordert, die Apparatur mechanisch in Gang zu setzen und die Energie zu erzeugen, mit der die Glas-Schallplatte ihre Bewegung aufnimmt. Einmal aktiviert, wird die Installation zu einem lebenden Organismus, einem sprechender Körper, dessen verschiedene Organe fein auf einander abgestimmt miteinander kommunizieren. Durch die körperliche Einbeziehung des Publikums und durch den spezifischen zeitlichen Ablauf verstärkt sich der organische Charakter der Aufführung.

Emilia Badalà lebt und arbeitet in Catania, Hamburg und Berlin. Sie besucht derzeit den Soundstudies Master an der UDK Berlin und beschäftigt sich mit Klang-installationen und ortsspezifische Kunst.

This event is part of transmediale & CTM's pre-festival weekend Vorspiel 2012
26 - 29 January 2012
> 20 venues across Berlin
art / sound / digital culture

transmediale and CTM's Vorspiel is a pre-festival programme where over 20 partner venues invite you to a series of exhibition openings, performances, artist talks and special events outside the main venues of either festival. Vorspiel will take place on the weekend prior to both festivals, from Thursday 26 – Sunday 29 January 2012, at independent organisations, galleries, project spaces and other venues across Berlin. The Vorspiel programme partners have been selected by transmediale and CTM according to one of the following criteria: content that relate to the in/compatible and/or Spectral thematic frameworks of the festivals, key collaboration partners and high artistic quality. Take this chance to experience some of Berlin's best experimental arts, music and sound in this unique pre-festival weekend.

transmediale.de/vorspiel
ctm-festival.de/vorspiel

---