Aykan Safoǧlu - Off-White Tulips
---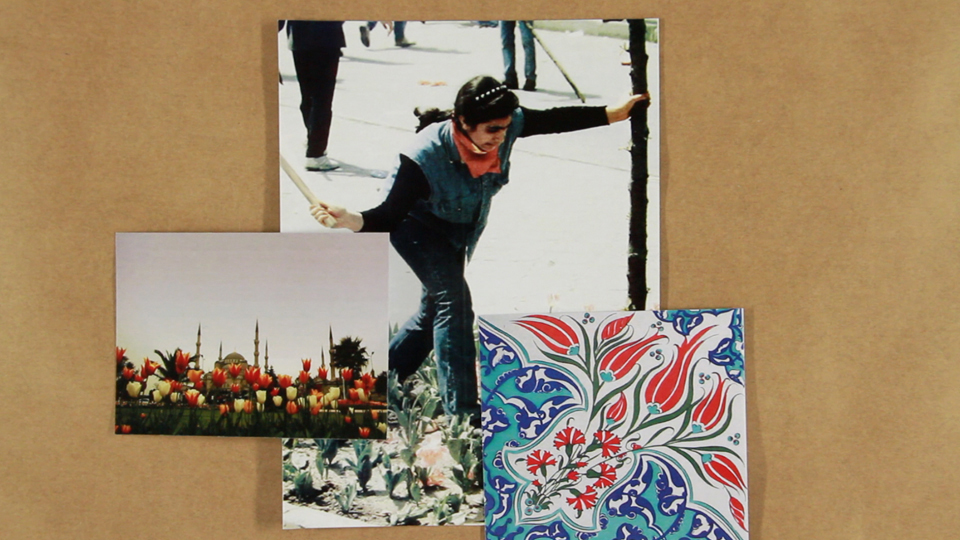 Opening Saturday, September 14, 2013, 7 p.m.

Finissage Sunday, Oktober 20, 2013, 6 p.m.

Duration September 15 – October 20, 2013

Kulturfestival Wedding und Moabit 2013
September 15, 2013, 2 – 7 p.m.

Last Exit to Space
Closing ceremony of the award presented to Berlin-based project spaces and initiatives in the field of visual arts for the year 2013.
September 18, 2013, 8 p.m.,
HAU 1

In his first solo show in Berlin artist Aykan Safoǧlu (* 1984 in Istanbul, lives and works in Berlin) presents his film Off-White Tulips (orig. Kirik Beyaz Laleler), a tribute to the US-American writer James Baldwin. In the dense, twenty-four minutes long video essay the artist links Baldwins self-imposed exile in Turkey with own biographical details and an exploration of his native country. The artist juxtaposes anecdotes of James Baldwin's time in Turkey with historical informations and experiences from his childhood and acts as a storyteller. On the basis of old photographs and other images we follow the traces of James Baldwin as much as those of Aykan Safoǧlu and his family through Istanbul. The mounting technique is amazingly simple, the artist places and combines the photographs, images and clippings in front of the camera and our eyes. The emphasis is on the personal story he tells us that completely blurs fact and fiction. Safoǧlu calls this form biomythography – an invented, made-up life story as defined by the US-American writer and activist Audre Lord who described herself as a "black lesbian feminist mother warrior poet". With his video essay Aykan Safoǧlu brings up questions that also widely informed James Baldwin's work: form - content, original - copy, interior - exterior, center - periphery, amateur - professional, past - present. Off-White Tulips tries to look at history from rather marginal perspectives in order to explore alternative interpretations of cultural artifacts and differences, queer politics and identity. It is concerned with black survival strategies in a white mainstream, as the title already suggests.

The artist has received the big prize of the city of Oberhausen at the Short Film Festival in Oberhausen in 2013 for the film.


Aykan Safoglu - Off-White Tulips

Eröffnung Samstag, 14. September 2013, 19 h

Laufzeit 15. September – 20. Oktober 2013

Kulturfestival Wedding und Moabit 2013
15. September 2013, 14 – 19 h

Last Exit to Space
Abschlussveranstaltung zur Auszeichnung Berliner Projekträume und -initiativen im Bereich Bildende Kunst für das Jahr 2013
18. September 2013, 20 h
HAU 1
In seiner ersten Einzelausstellung in Berlin stellt Aykan Safoǧlu (* 1984 in Istanbul, lebt und arbeitet in Berlin) seinen Film Off-White Tulips (orig. Kirik Beyaz Laleler) vor, eine Hommage an den US-amerikanischen Schriftsteller James Baldwin. Der Künstler verknüpft Baldwins Leben im selbstgewählten Exil in der Türkei mit eigenen biographischen Details und Erkundungen seines Heimatlandes zu einem dichten, 24 Minuten langen Video-Essay. Der Künstler stellt dabei Anekdoten aus James Baldwins Zeit in der Türkei neben historische Informationen und Erlebnisse aus seiner Kindheit und fungiert dabei als Geschichtenerzähler. Anhand von alten Fotografien und anderem Bildmaterial folgen wir den Spuren James Baldwins ebenso wie Aykan Safoǧlus und seiner Familie durch Istanbul. Die Montagetechnik ist verblüffend einfach, der Künstler legt die Fotografien, Bilder und Ausschnitte vor der Kamera und unserem Auge aus und übereinander. Im Vordergrund steht die persönliche Geschichte, die er uns erzählt, und in der Fakten und Fiktion völlig verschwimmen. Safoǧlu nennt diese Form "Biomythography", – eine erfundene Lebensgeschichte laut Definition der US-amerikanischen Schriftstellerin und Aktivistin Audre Lord, die sich selbst als "black lesbian feminist mother poet warrior" bezeichnete. Die Fragen, die Aykan Safoǧlu mit seinem Video-Essay verhandelt, stehen auch im Vordergrund von James Baldwins Werk: Form - Inhalt, Original - Kopie, Innen - Außen, Zentrum - Peripherie, Amateur - Profi, Vergangenheit – Gegenwart. Off-White Tulips versucht Geschichte aus eher marginalen Perspektiven zu betrachten, um alternative Lesarten von kulturellen Artefakten und Unterschieden, queerer Politik und Identitäten zu erkunden. Der Film beschäftigt sich, wie im Titel angedeutet, mit schwarzen Überlebensstrategien im weißen Mainstream.

Der Künstler hat 2013 den großen Preis der Stadt Oberhausen bei den Kurzfilmtagen in Oberhausen für den Film erhalten.
---