Maziyar Pahlevan – Good people eat the detailed and they don't wait
---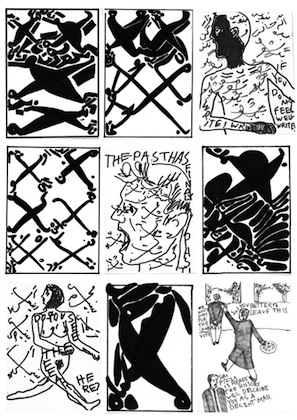 Opening  Friday, February 28, 2014,  7 p.m.

Duration  March 1 –  23, 2014

The camera is broken and the king has time, cuts his hair himself and writes whatever happens in his territory. Like a bear he stands in the middle of the river opposite of the water flow and hunts whatever comes towards him, fish, the past and sometimes nothingness.
King the bear eats better friends from higher levels, he habited himself well and writes everyday's deathbed confession with a dog's waiting face staring at the ceiling and sings a song about the importance of sureness and concluding.
Internet never gets minus, from now on future is expected as it is planned, dead hair and dear whore, sit here dear, eat fear here. The bear decisionlessly licks the time and it never finishes.
Maziyar Pahlevan, 2014

In his first solo show in Berlin, the artist will show a selection of drawings and sketches.

Mazyar Pahlevan (*1983, Tehran, Iran) is a visual artist and graphic designer. Pahlevan studied graphic design at Royal Academy of Art (KABK) in The Hague, The Netherlands. He currently lives and works in Berlin.

www.maziyarpahlevan.com
Maziyar Pahlevan – Good people eat the detailed and they don't wait

Eröffnung Freitag, 28.2.2014, 19 h

Laufzeit 1. – 23. März 2014

Die Kamera ist kaputt und der König hat Zeit, schneidet sich selbst die Haare und schreibt auf, was in seinem Reich passiert. Wie ein Bär steht er in der Mitte des Flusses der Strömung entgegen und jagt was auch immer auf ihn zukommt, Fische, die Vergangenheit und manchmal Nichts.
Der König Bär frisst höhergestellte Freunde, er kleidet sich gut, schreibt – mit dem Gesicht eines wartenden Hundes an die Decke starrend – alltägliche Lebensbeichten und singt ein Lied über die Bedeutung von Sicherheit und dem Ende.
Das Internet wird nie kleiner, die Zukunft wird ab jetzt erwartet, wie sie voraus geplant ist, abgestorbene Haare und geliebte Hure, setz Dich her meine Liebe und ess die Angst auf. Der Bär leckt unentschlossen an der Zeit und so geht es immer weiter.
Maziyar Pahlevan 2014

In seiner ersten Einzelausstellung in Berlin  zeigt der Künstler eine Auswahl von Zeichnungen und Skizzen.

Mazyar Pahlevan (*1983 in Teheran, Iran) ist ein bildender Künstler und Grafik-Designer. Pahlevan studierte Grafikdesign an der Royal Academy of Art (KABK) in Den Haag, Niederlande. Er lebt und arbeitet in Berlin.

www.maziyarpahlevan.com
---