Nicu Ilfoveanu – Series. Multiples. Realisms.
---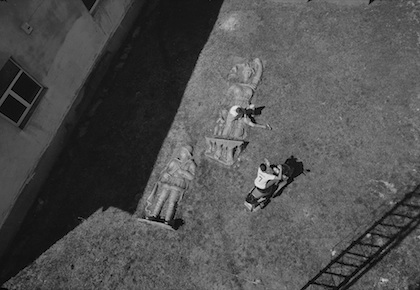 Curated by Alina Şerban

Opening June 6, 2014, 7 p.m.

Duration June 7 – 30, 2014

In cooperation with the Romanian Cultural Institute Berlin uqbar presents Series. Multiples. Realisms., a solo exhibition by artist Nico Ilfoveanu, curated by Alina Şerban. The project was initially shown at the Romanian Peasant Museum in Bucharest in 2012 and is accompanied by a publication. For the exhibition at uqbar the artist brings together photography, text, slide projection and Super8 film.
An object of history, memory, symbol, but most often today, of geographical marking, the public forum monument is, in fact, a recipient of collective features, complexes and fascinations. The intimate correspondences established by it with the various configurations of the public sphere and of the place in which it is located are virtually creating a new history- one told by the monument in a different manner and to different people each and every time. The invisible meaning of such an artifact is turning it either into a space for mutual values to communicate and interact with each other, or into a space of resistance against the forms of colonizing and postulating a monolithic identity. As circumstantial agents, public monuments become territories tagged by the coexistence of various testimonies, traumas and daily realities.
Series. Multiples. Realisms. is focusing on the construction of a photographic series dealing with the public monuments created in memory of World War I in the rural environment. In the quiet landscape of the Romanian villages, a fragile profile of the soldiers as known heroes is captured, disclosing not only a mutual historical experience, but also a universe that formed the object of radical transformations in the last years. Apparently disconnected from their background, the lives of these lonely characters provide the passer-by with an incursion into a collective social practice. The layers of such practice are activating, beyond the daily resignation and oblivion, sui generisshapes in which the sphere of the national is represented, and the public discourse is interpreted.

Nicu Ilfoveanu's approach is to destabilize the traditional rhetoric accompanying the narration of these monuments, while he proposes a working and reading alternative. There is a common denominator for these images, namely an intimate relationship with space, with the living territory of the village, which has become the instrument of collective projections. The affinity with this landscape is, for each community, strengthening the presence of certain rituals and histories which are subjectively constructing national identities. Last, but not least, Nicu Ilfoveanu's project allows an observation of the mirage represented by commemoration, death and public representation horizons, following the perception of these monuments at the local level then, when they were built and now, in the present.

The photographer Nicu Ilfoveanu and the curator Alina Şerban will attend the opening of the exhibition.
Nicu Ilfoveanu is active in the field of photography, film, and photographic books. The artist is credited a particular position in Romanian contemporary photography. His recent activity includes solo shows at the Arsenal Gallery, Poznan (2013); The Romanian Peasant Museum, Bucharest (2012) and group shows as the 55th International Art Exhibition – La Biennale di Venezia (2013); 4th Fotofestival, Mannheim/Heidelberg/Ludwigshafen (2011).

Alina Şerban is an art historian and curator. The projects initiated by her share as a common ground a research-oriented practice. She recently edited publications on Romanian Neo-Avant-garde artists Ion Grigorescu and Geta Brătescu. In 2009 Şerban curated the Romanian Pavilion at the 53rd International Art Exhibition – La Biennale di Venezia, later also shown at The Renaissance Society at The University of Chicago. She is currently working on Vision of a Nation in collaboration with Fotogalleriet Oslo and Enchanting Views: Romanian Black Sea Tourism Planning and Architecture of the 1960s and '70s together with the architects Kalliopi Dimou & Sorin Istudor.

In cooperation with



Nicu Ilfoveanu – Series. Multiples. Realisms.

Kuratiert von Alina Şerban

Eröffnung 6. Juni 2014, 19.00 Uhr

Laufzeit 7. – 30. Juni 2014

Unter dem Titel Series. Multiples. Realisms. zeigt uqbar in Kooperation mit dem Rumänischen Kulturinstitut Berlin eine Einzelausstellung des Künstlers Nico Ilfoveanu, kuratiert von Alina Şerban. Das Projekt wurde erstmals 2012 im Museum des Rumänischen Bauern in Bukarest präsentiert und wird von einer Publikation begleitet. Für die Ausstellung bei uqbar bringt der Künstler Fotografie, Text, Dia-Projektion und Super8-Film in einer raumfüllenden Installation zusammen.

Als Objekt der Geschichte, der Erinnerung, Symbol, heute meist geographischer Markierung beinhaltet das Denkmal im öffentlichen Raum kollektive Zusammenhänge und Faszinationen. Die engen Verbindungen, die es mit den unterschiedlichen Ausformungen des öffentlichen Raums und seines konkreten Standortes eingeht, schreiben Geschichte quasi immer wieder aus Neue – eine Geschichte, die vom Denkmal und seinen Betrachtern stetig auf andere Weise erzählt wird. Die Bedeutung, die dem Artefakt zugesprochen wird, schafft entweder einen Raum der Kommunikation und Interaktion, in dem allgemein gültigerWerte bestätigt werden, oder einen Raum des Widerstands, der sich bestimmten Formen der Kolonisierung und der Postulierung einer monolithischen Identität widersetzt. In seinem sich wandelnden Kontext nimmt das das Denkmal einen Ort ein, in den sich unterschiedliche Referenzen, Zeugnisse, Traumata und Alltagsrealitäten einschreiben.

Series.Multiples.Realisms. umgreift eine Serie von Fotografien über Denkmäler, die zum Gedenken des Ersten Weltkrieg in ländlichen Raum errichtet wurden. In der malerischen Landschaft der rumänischen Dörfer zeigt sich das zerbrechliche Antlitz des als Helden bekannten Soldaten, das nicht nur von einer gemeinsamen geschichtlichen Erfahrung zeugt, sondern auch von einem Universum, das in jüngster Zeit grundlegenden Veränderungen unterzogen wurde. Ihres konkreten Hintergrunds beraubt, gewähren die einsamen Figuren dem Betrachter einen Einblick in eine kollektive gesellschaftliche Praxis und ihre unterschiedliche Ebenen, die jenseits alltäglicher Resignation und des Vergessens, eigentümliche Formen hervorbringt, in denen sich die Sphäre des Nationalen ausdrückt und der öffentliche Diskurs interpretiert wird.

Mit seinem Projekt versucht der Künstler, die den Monumenten zugrunde liegende tradierte Rhetorik aufzubrechen und gleichzeitig eine alternative Arbeits- und Leseweise vorzuschlagen. Die Auseinandersetzung mit Raumfragen, mit dem Lebensraum des Dorfes, das zur kollektiven Projektionsfläche mutiert ist, vereint die Bilder. Indem Ilfoveanu die Rezeption der Monumente nachzeichnet, zum Zeitpunkt ihrer Entstehung und heute, ermöglicht er einen Blick auf die Trugbilder, die von Gedenken, Tod und öffentlichen Repräsentationsbedürfnissen hervorgebracht werden.

Der Künstler und die Kuratorin Alina Şerban sind zur Eröffnung anwesend.

Nicu Ilfoveanu arbeitet mit Fotografie und Film. Er absolvierte die Nationale Universität der Künste in Bukarest, wo er zurzeit unterrichtet. Ausstellungen untern anderem bei: Galerie Arsenal, Poznan (2013); 55. Biennale di Venezia (2013); Museum des Rumänischen Bauern, Bukarest (2012); 4. Fotofestival, Mannheim, Heidelberg, Ludwigshafen (2011).

Alina Şerban ist Kunsthistoriker, Kuratorin. Ihre Projekte sind zumeist Recherche basiert. Sie publizierte vor kurzem Monographien zu den rumänischen Neoavantgardisten Ion Grigorescu und Geta Bratescu. 2009 war sie Kuratorin des Rumänischen Pavillons im Rahmen der 53. Biennale di Venezia. Die Ausstellung wurde anschließend von The Renaissance Society, Universität Chicago übernommen. Derzeit arbeitet die Kuratorin an folgenden Projekten Vision einer Nation in Zusammenarbeit mit Fotogalleriet Oslo und Enchanting Views: Romanian Black Sea Tourism Planning and Architecture of the 1960s and '70s zusammen mit den Architekten Kalliopi Dimou & Sorin Istudor.

In Kooperation mit



---