Fabian Bechtle / Leon Kahane - Republic of Boxes
---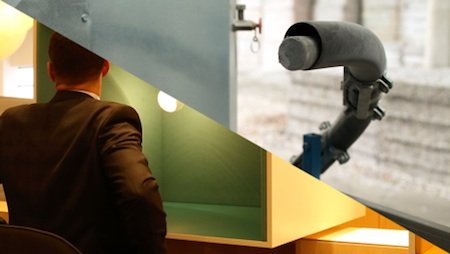 Eröffnung Freitag, 16. Januar 2015, 18 h

Screening Dienstag, 17. Februar 2015, 20:30 h
Moves #82, Image Movement, Oranienburger Strasse 18, D-10178 Berlin

Lauftzeit 17. Januar – 22. Februar 2015

Öffnungszeiten Freitags, 14:30 - 18:30 h und nach Vereinbarung
Fabian Bechtles und Leon Kahanes Ausstellung Republic of Boxes bringt Arbeiten der beiden Künstler zusammen, die sich um Kontrolle, Flexibilität und Transparenz im Kontext aktueller Arbeitswelten ranken. Die Umgebung, in der heute gearbeitet wird, erscheint als uniformes Set, konstruiert aus normierten Daten und Modulen. Die Box dient dabei als Sinnbild für die (mobile) Umgebung des heutigen Angestellten, darüber hinaus aber auch als visuelles Konstruktionselement, eine dreidimensionale Version eines aus Pixeln gebauten Bildes.

Die Künstler nähern sich diesen Arbeitswelten aus sehr verschiedenen Perspektiven. Leon Kahane präsentiert eine Reihe von Objekten und Bildern. Die Arbeiten lösen verschiedene, allgemeingültigere Aspekte seiner letzten beiden Videoarbeiten, die in Hong Kong entstanden sind und sich mit den dortigen Arbeitsbedingungen beschäftigen, aus dem konkreten Kontext der Metropole heraus. Zum einen zeigt der Künstler Objekte, auf die er Textfragmente aus den Videos überträgt. Die Textzitate beruhen auf Forderungen philippinischer Hausmädchen, vorgebracht auf einer Demonstration für bessere Arbeits- und Aufenthaltsbedingungen, oder Popsongs von Sängerinnen wie Beyoncé Knowles und Celine Dion, die eben diese Frauen performen bzw. re-enacten. Daneben zeigt Kahane eine Wandarbeit, ein minimalistisches Arrangement von Boxen, auf die er Icons der Arbeitswerkzeuge des Animationsprogramms Cinema 4D übertragen hat und die er 3D animierten Büroansichten der Firma Herman Miller gegenüberstellt.

Fabian Bechtles Beitrag legt den Schwerpunkt auf eine sehr spezielle Form bzw. physisch- konkrete Ausformung von Daten. Der Künstler beschäftigte sich dafür mit dem Prozess und Endprodukt der physischen Vernichtung von sogenannten sensiblen Daten. Die Zerstörung steht am Ende einer langen unübersichtlichen Kette (interner) Daten-Übermittlung. Bechtle dokumentierte diesen Prozess u.a. bei der Firma Reisswolf, einer von Europas größten Anbietern von Office-Waste-Lösungen, Akten- und Datenträgervernichtung. Unter dem Slogan secret.service werden die zunächst in Sicherheitscontainern gesammelten "Büroabfälle" unter höchsten Sicherheitsstandards zu tonnenschweren Blöcken aus geschredderten Akten gepresst. Den in den Verarbeitungshallen anfallenden (Daten-)Staub verdichtet die Firma zu Objekten, die in ihrer Form in etwa an Bohrkerne erinnern. Die skulpturale Form und Ästhetik dieser Datenobjekte ist es, die den Künstler interessiert. In seiner Videoarbeit unternimmt er den Versuch, diese wieder lesbar zu machen.

Leon Kahane (* 1985 in Berlin) lebt und arbeitet in Berlin. Seit 2010 studiert Kahane an der Universität der Künste in Berlin. Seine Arbeiten wurden in Gruppenausstellungen gezeigt wie u.a. "Desertmed", NGBK, Berlin, 2012; "Die Welt ist jetzt stabil", Galerie Alexander Levy, Berlin, 2013; "Seen by", Museum für Photographie, Berlin, 2013; "55. Oktober Salon", Belgrade City Museum, Belgrad, 2014.

Fabian Bechtle (* 1980 in Berlin) lebt und arbeitet in Berlin und Leipzig. Bechtle studierte Bildende Kunst in Leipzig und Lyon. Von 2009-2001 arbeitete er als Assistent für den Fotografen und Filmemacher Armin Linke. Zur Zeit ist er künstlerischer Mitarbeiter für Medienkunst an der Hochschule für Grafik und Buchkunst, Leipzig. Seine Arbeit wurde in Institutionen gezeigt wie u.a. Museum für zeitgenössische Kunst, Belgrad, 2012; NGBK, Berlin, 2012; Haus der Kulturen der Welt, Berlin, 2013; Fabbrica del Vapore, Mailand, 2014; Museum für Jugoslawische Geschichte, Belgrad, 2014.

Die Ausstellung ist Teil von Vorspiel 2015, ein Veranstaltungsprogramm im Rahmen der transmediale und des CTM, Berlin.
Opening Friday, January 16, 2015, 6 p.m.

Screening Tuesday, February 17, 2015, 8.30 p.m.
Moves #82, Image Movement, Oranienburger Strasse 18, D-10178 Berlin

Duration January 17 – February 22, 2015

Opening hours Fridays, 2.30 - 6.30 p.m. and by appointment

The exhibition Republic of Boxes brings together works of the Berlin (based) artists Fabian Bechtle and Leon Kahane, that address issues of control, flexibility and transparency in the context of current working environments. The environments, people work in today, appear as uniform sets constructed out of standaradized data and modules. The box serves a metaphor for the (mobile) working environment of the employee today, and moreover it is also a visual design element, a three-dimensional version of a composite image made up of pixels.

The artists approach these working environments from very different perspectives. Leon Kahane presents a series of objects and images. The works are based on Kahane's last two video works that were produced in Hong Kong and deal with the local working conditions. With the new works the artist aims at separating various, more universal aspects from the specific context of the metropolis. He shows objects that take up and incorporate text fragments from the videos. The text citations are based on claims of filipino domestic workers, articulated at a demonstration for better working and residence conditions, or pop songs of singers like Beyonce Knowles and Celine Dion, performed or re-enacted by just these women. In addition, Kahane shows a wall work, a minimalist arrangement of boxes, on which he has transferred icons of the tool palette of the animation program Cinema 4D and images of animated 3D office views by the company Herman Miller.

Fabian Bechtle's contribution focuses on a very specific form or physically-concrete transformation of data. The artist deals with the process and the final product of the physical destruction of so-called sensitive data. The destruction is at the end of a long confusing chain of (internal) data transmission. Bechtle documented this process at among others the company Reisswolf, one of Europe's largest suppliers of office-waste solutions, file and data destruction. Under the slogan secret.service the "office waste" is collected in safety containers under the highest safety standards, and pressed to blocks from shredded files, weighing (several) tons. The "(data) dust" that occurs during this process is condensed by the company into objects that resemble in shape to drilling cores. The sculptural form and aesthetics of these data objects is that what is of interest to the artist. In his video, he is attempting to make them readable again.

Leon Kahane (*1985, Berlin) lives and works in Berlin. Since 2010 Kahane has studied at the University of Arts in Berlin. Group exhibitions include "Desertmed", NGBK, Berlin, 2012; "The World Is Stable Now", Gallery Alexander Levy, Berlin, "Seen By", Museum für Photographie, Berlin, 2013, "55. Oktober Salon", Belgrade City Museum, Belgrade.

Fabian Bechtle (*1980, Berlin) lives and works in Berlin and Leipzig. Bechtle studied Fine Arts in Leipzig and Lyon. From 2009-2001 he worked as an assistant for the photographer and filmmaker Armin Linke. At present he teaches Media Art at the Hochschule für Grafik und Buchkunst, Leipzig. His work has been shown a.o. at Museum of Contemporary Art, Belgrade, 2012; NGBK, Berlin, 2012; Haus der Kulturen der Welt, Berlin, 2013; Fabbrica del Vapore, Mailand, 2014; Museum of Yugoslav History, Belgrade, 2014.

The exhibition is part of Vorspiel 2015, a programme of events in the frame of transmediale and CTM, Berlin.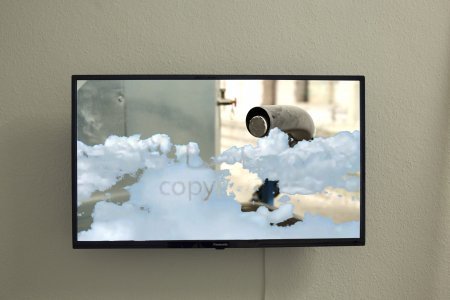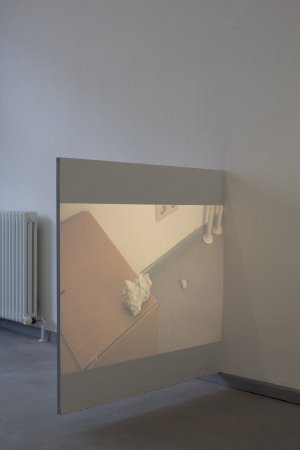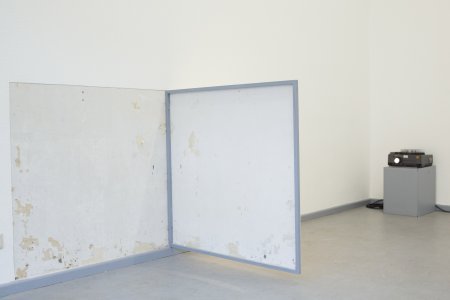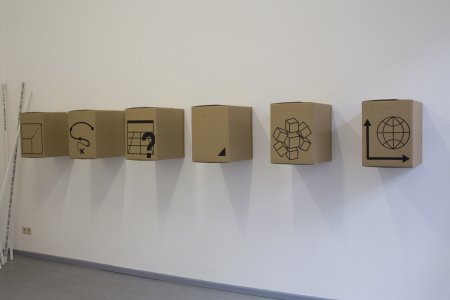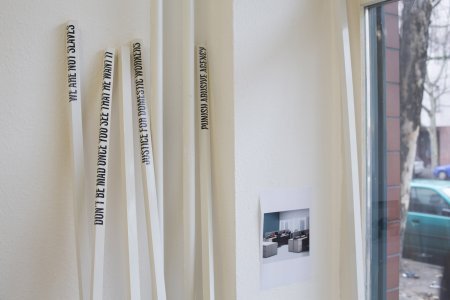 ---