DO FARD UNDERWEAR,TEHRAN – BERLIN, Pop-Up Shop
---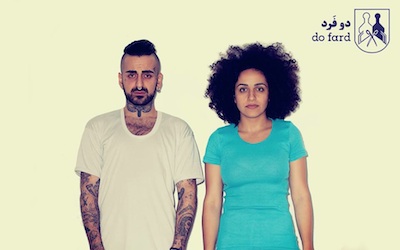 Opening
Friday, July 17, 2015, 7 p.m.

Sales Event: Araq & Panties
Wednesdy, August 5, 2015, 7 p.m.

Duration
July 18 – August 9, 2015

Opening Times
Tuesday - Saturday, 1 - 7 p.m.

With do fard, artist Anahita Razmi transforms the Berlin project space uqbar into a temporary pop-up store for Iranian underwear. The brand do fard (english: "Two individuals") has been producing underwear for more than fifty years in Iran, sold through a little shop in the central bazaar of Tehran. Pants and vests in different shapes and colours are on offer. Based on this unique product range, the temporary do fard-branch in Berlin opens from July 17 to August 9, offering a limited range of imported underwear "made in Iran".

Iran, a country shaped by economic sanctions and restrictive conditions regarding trade and exchange, is currently at a potential turning point in the course of its nuclear talks. The store recognises this as an opportunity to launch a relatively unknown product and potential bestseller across national borders. The blurring of cultural identities and stereotypes is as much a part of the stores concept as the establishment of a (dys)functional Iranian-German underpants trade relationship.

For the Projectspace Festival 2015 the shop will extend its opening hours with iranian music, iranian cocktails and special sale offers on iranian underpants.

Further information
www.dofard.com
www.facebook.com/dofard.underwear
www.anahitarazmi.de

do fard is funded by the Kulturverwaltung of the Berlin Senat.
Eröffnung
Freitag, 17. Juli 2015, 19 h

Sales Event: Araq & Panties
Mittwoch, 5. August 2015, 19 h

Laufzeit
18. Juli – 9. August 2015

Öffnungszeiten
Dienstag - Samstag, 13-19 Uhr

Für das Projekt do fard verwandelt die Künstlerin Anhita Razmi den Projektraum uqbar temporär in einen Pop-Up Store für iranische Markenunterwäsche. Die iranische Unterwäschemarke دو†فرد† – do fard (deutsch: "Zwei Individuen") wird seit über fünfzig Jahren in Iran hergestellt und über einen kleinen Laden im zentralen Basar Teherans vertrieben. Es werden Unterhosen und -hemden in verschiedenen Formen und Farben verkauft. Als klassisches Alltagsprodukt ist die Wäsche in Iran sehr bekannt. Ausgehend von dieser einzigartigen Produktpalette bietet die temporäre do fard-Filiale in Berlin von Juli bis August 2015 ein limitiertes Kontingent importierter Unterwäsche "Made in Iran" an.

Der Iran, ein Land geprägt von Wirtschaftssanktionen und restriktiven Bedingungen in Handel und Austausch, steht aktuell im Zuge der Atomgespräche an einem möglichen Wendepunkt. Diese Chance nutzt der Shop zum Launch eines unterschätzten möglichen Bestsellers über die Landesgrenzen hinaus. Das Verwischen von kulturellen Zuschreibungen und Stereotypen ist dabei genauso Teil des Shopkonzepts, wie der Umgang mit (Dis)Funktionalitäten im Aufbau einer iranisch-deutschen Unterhosenhandelsbeziehung.

Zum Projectspace Festival 2015 findert unter dem Motto Berlin Araq & Panties eine exklusive Sonderverkaufsaktion mit iranischen Cocktails und DJ statt.

Weitere Informationen
www.dofard.com
www.facebook.com/dofard.underwear
www.anahitarazmi.de
do fard wird gefördert von der Kulturverwaltung des Berliner Senats.
---