Diana Artus - There is tiresome, but attractive
---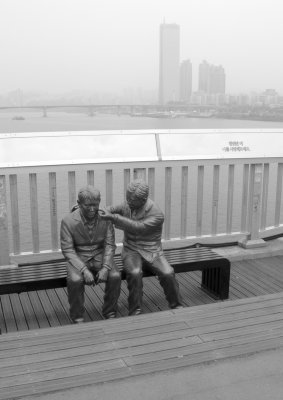 Eröffnung
Freitag, 27. November 2015, 19 h
Finissage
Sonntag, 10. Januar 2016, 15 – 19 h

Laufzeit
28. November – 10. Januar 2015

Öffnungszeiten
Freitags, 14 – 18 h und nach Vereinbarung

In der Ausstellung There is tiresome, but attractive zeigt Diana Artus Resultate ihrer dreimonatigen Artist Residency in Seoul im Frühling diesen Jahres. Wiederkehrende Themen in der Arbeit der Künstlerin sind die Wechselwirkung von Stadtraum und Stimmung sowie die Frage nach einer psychogeographischen Les- und Erzählbarkeit urbaner Strukturen. Dieses Mal, inspiriert von den Thesen des südkoreanischen Philosophen Byung-Chul Han, der sein Heimatland als "Müdigkeitsgesellschaft im Endstadium" bezeichnet, stand die spezifische Atmosphäre Seouls im Spannungsfeld zwischen "excitement" und "exhaustion" im Mittelpunkt ihrer Recherche.
In Form eines installativen Settings versammelt die Ausstellung verschiedene Fotografien aus den Business- und Shopping-Distrikten der Stadt, insbesondere aus Gangnam und der noch im Bau befindlichen "Smart City" Songdo. Durch simple Bearbeitungen des Trägermaterials bzw. durch die Art ihrer Präsentation werden die abgebildeten Straßenszenen und Architekturen zu "Urban Characters" und erweitern damit die gleichnamige Werkserie der Künstlerin, in der sie architektonische Körper zu repräsentativen Figuren werden lässt, die ihren Betrachtern als eigenständige Persönlichkeiten mit charakteristischen Merkmalen gegenübertreten. Im Falle Seouls sind dies ultramoderne Gebäude, die sich jedoch kaum noch aufrecht halten können. Unter dem Titel Dropouts fallen sie im Ausstellungsraum buchstäblich aus dem Rahmen und agieren so scheinbar die Erschöpfung aus, die sich die abgebildeten Passanten nicht zugestehen. Auf die Frage "How are you?" antwortet das disziplinierte Leistungssubjekt mit "Very busy!". Artus' Arbeit Businesscard of a Full Body Sandwich Man verweist auf den Stellenwert der Visitenkarte als Ausweis solcher Geschäftigkeit.
Der Zwang zu permanenter Leistungsbereitschaft und optimaler Erscheinung übt einen immensen Druck aus, suggestiver Zuspruch sorgt für die nötige Motivation. Bei den auf einem Flatscreen präsentierten Korean Notebook Wisdoms handelt es sich um eine Sammlung von Sinnsprüchen, die die Künstlerin auf den Covern koreanischer Collegeblöcke entdeckt hat – der Ausstellungstitel ist einer davon. Diese in fehlerhaftem Englisch verfassten Slogans changieren auf seltsame Weise zwischen Beruhigung und Ansporn; der konfuzianistischen Philosophie entsprungen fügen sie sich nahtlos in ein globales neoliberales Arbeitsethos ein.
Darüber hinaus präsentiert Diana Artus ihr neues Künstlerbuch A Korean Notebook, das unmittelbar von den koreanischen Collegeblöcken inspiriert ist. Darin sind nicht nur die Bild- und Textebene der Ausstellung vereint, sondern, wie der Name schon sagt, kann es auch als Notizbuch verwendet werden kann.
Opening
Friday, November 27, 2015, 7 p.m.

Finissage
Sunday, January 10, 2016, 3 – 7 p.m.
Running time
November 28 – January 10, 2015

Opening hours
Fridays, 2 – 6 p.m., and by appointment

In her exhibition There is tiresome, but attractive Diana Artus presents the results of her three-month artist residency in Seoul in spring 2015. Recurring themes in the artist's work are the interaction of urban space and mood as well as the question of a psychogeographical readability and narratability of urban structures. This time her research was inspired by the theories of South Korean philosopher Byung-Chul Han, who referred to his country as "fatigue society in the final stage", and focused on the specific atmosphere of Seoul between "excitement" and "exhaustion".
In the form of an installation setting the exhibition brings together various photographs from the city's business and shopping districts, especially Gangnam and the "Smart City" Songdo that is still under construction. Working with the image carrier and the form of its presentation, the artist transforms the street scenes and architectures into "Urban Characters". In her series of works of the same title –Urban Characters– the artist turns architectural bodies into representative characters, who confront the viewer as independent personalities with distinctive characteristics. In the case of Seoul, these are ultra modern buildings, but barely able to keep upright. These new works entitled Dropouts literally fall out of the frame into the exhibition space. It seems as if they were acting out the exhaustion that the passers depicted do not concede. When asked "How are you?" the disciplined subject answers "Very busy!" Artus' Businesscard of a Full Body Sandwich Man refers to the importance of the business card as proof of such activity.
The need for a permanent commitment and optimal appearance exerts immense pressure and in order to keep up the motivation, there is suggestive encouragement. Shown on a flatscreen, Korean Notebook Wisdoms is a collection of aphorisms that the artist has discovered on the covers of Korean College blocks - the title of the exhibition is one of them. The slogans -–written in incorrect English– oscillate oddly between reassurance and encouragement; sprung from the Confucian philosophy they fit seamlessly into a global neoliberal work ethic.
Diana Artus further presents her new artist's book A Korean Notebook, which is inspired by the Korean college blocks. It brings together the image and text level of the exhibition and –as the name suggests– it also can be used as notebook.
---