J&K - Talking Babylon
---

*** English version below ***

Featuring: Babylon Shuttle Bus – Preparations for a Journey from Ground Zero across the Bible Belt

Eröffnung Freitag, 21. September 2007, 19 Uhr

Talkshow mit J&K und Christian Skovbjerg, 21 Uhr

Laufzeit 22. September – 13. Oktober 2007

Talks on Babylon Samstag, 29. September 2007, 18 Uhr
mit Boris Buden und Alexandra Müller-Benz
Gelände des 4. Berliner Kunstsalons, Badstr. 41a, 13357 Berlin

In Kooperation mit der 4. Ars Baltica Triennale Don't Worry – Be Curious! zeigt uqbar die erste Berliner Einzelausstellung des Künstlerduos Janne Schäfer (*1976 in Darmstadt) und Kristine Agergaard (*1975 in Kopenhagen), die seit 1999 als J&K zusammenarbeiten.
In ihren performativen Arbeiten setzen sich J&K spielerisch mit Glaubenssystemen wie Religionen, Utopien oder Pseudowissenschaften auseinander und inszenieren sich in ihren Arbeiten, gängige Rollenbilder und Stereotypen aufgreifend, oft selbst. Seit 2006 arbeiten J&K an einer dreiteiligen Werkserie zum Thema Babylon. Der Begriff Babylon wird im Rahmen der Trilogie als kaleidoskopische und vielschichtige Metapher entfaltet, welche für die Komplexität der modernen Zivilisation und deren geschichtliche Entwicklung steht. Hierdurch sollen Zusammenhänge zwischen zivilisatorischen Mechanismen, Religions- und Kulturgeschichte sowie aktueller globaler Weltpolitik untersucht werden.
Für die Ausstellung bei uqbar bringen die Künstlerinnen ihre mobile Skulptur Babylon Shuttle Bus, die den Anfang der Trilogie bildet, zum ersten Mal nach Berlin. Der Babylon Shuttle Bus ist Fahrzeug, Sprachrohr und Bühne. Verschiedene Menschen aus unterschiedlichen Kontexten und mit jeweils anderen Anliegen werden eingeladen vom Turm des Busses aus Ansprachen zu Babylon zu halten. Die ersten dieser Talks on Babylon sind als Video-Archiv in der Ausstellung zu sehen. Schwerpunkt der Ausstellung ist jedoch die semi-utopische Visualisierung einer Reise des Babylon Shuttle Bus durch Amerika kurz vor den Präsidentschaftswahlen im Herbst 2008. Die Tour beginnt am Ground Zero, der Leerstelle einer modernen Turmbau-zu-Babel Version, und durchkreuzt den Bible Belt (dt: "Bibelgürtel"), wo protestantisch-evangelikale Konfessionen zu Hause sind. Auf dem Weg laden J&K Menschen unterschiedlicher politischer, religiöser und ethnischer Herkunft ein, den Bus als Plattform und Sprachrohr für ihre Version von Babylon zu bespielen. In der Berliner Ausstellung bereiten J&K diese Reise konzeptionell, strategisch und visionär vor, indem sie die Route planen und mögliche Ereignisse, Situationen und Begegnungen imaginieren. Es geht darum, Vorstellungen über die politische Realität in Amerika, Klischees von christlichem Fundamentalismus und die amerikanische Vision einer multikulturellen, "babylonischen" Gemeinschaft aufzugreifen und eingefahrene Denkmuster aufzubrechen.
Ausstellungsansicht

Am 29. September um 18 Uhr finden zwei neue Talks on Babylon auf dem Gelände des 4. Berliner Kunstsalons mit dem Kulturwissenschaftler Boris Buden und der Kunsttherapeutin und Tarot-Expertin Alexandra Müller-Benz statt.

Bis 21. Oktober 2007 zeigen J&K ihre Einzelausstellung Egyptomaniacs in Overgaden, Kopenhagen.
Weitere Informationen zu den Aktivitäten von J&K finden Sie unter www.jk-world.net

Die Präsentation von J&K ist der vierte und letzte Teil einer Ausstellungsserie von uqbar in Kooperation mit der 4. Ars Baltica Triennale der Fotokunst Don't Worry – Be Curious!, in deren Rahmen KünstlerInnen aus dem Ostseeraum vorgestellt werden, die in ihren Arbeiten auf unterschiedliche Weise über gesellschaftliche Umbrüche und dadurch hervorgerufene Ängste und Probleme sprechen. Die 4. Ars Baltica Triennale ist ein Projekt der Stadtgalerie Kiel, kuratiert von Dorothee Bienert, Kati Kivinen und Enrico Lunghi. Sie wird gefördert von dem Programm Culture 2000 der Europäischen Union, der Kulturstiftung des Bundes sowie vom Ministerpräsidenten des Landes Schleswig-Holstein und Institutionen in den Ars Baltica Partnerländern.
Weitere Informationen unter www.arsbalticatriennial.org
Opening Friday, September 21, 2007, 7 p.m.

Talk show with J&K and Christian Skovbjerg, 9 p.m.

Duration September 22 – October 13, 2007

Talks on Babylon Saturday, September 29, 2007, 6 p.m.
with Boris Buden and Alexandra Müller-Benz
at the 4th Berliner Kunstsalon, Badstr. 41a, 13357 Berlin


Uqbar, in cooperation with the 4th Ars Baltica Triennial Don't Worry – Be Curious!, is presenting Berlin's first solo exhibition of the artist duo Janne Schäfer (*1976 in Darmstadt) and Kristine Agergaard (*1975 in Copenhagen), who have collaborated as J&K since 1999.
J&K's performative works playfully address systems of belief such as religions, utopias, or pseudoscience as well as prevalent role models and stereotypes, often with the artists themselves in the starring roles. In 2006 J&K began a three-part series devoted to the concept of Babylon. Within the scope of the trilogy, the term Babylon evolves into a kaleidoscopic and multifaceted metaphor that stands for the complexity of modern civilization and its historical development, thereby allowing a closer look at the correlations between civilizing mechanisms, the history of religion and culture, and current global politics.
For the exhibition at uqbar, the artists are taking their mobile sculpture Babylon Shuttle Bus, the starting point of the trilogy, on its first trip to Berlin. The Babylon Shuttle Bus is a motor vehicle, a mouthpiece, and a stage. Guests from various contexts and with diverse concerns will hold speeches on Babylon from the bus' tower. The first of these Talks on Babylon can be viewed in the exhibition's video archive. The show focuses on the semi-utopian visualization of the Babylon Shuttle Bus' trip across America shortly before the presidential election in the autumn of 2008. The tour commences at Ground Zero, an empty space symbolic of a modern-day erection of the Tower of Babel, and crosses the Bible Belt, home to a profusion of protestant-evangelical confessions. Along the way, J&K will be inviting guests of various political, religious, and ethnic backgrounds who will use the bus as a platform and mouthpiece for their version of Babylon. The exhibition in Berlin will be the scene of J&K's conceptual, strategical, and visionary preparations for this trip. They will plan the route and envision the events, situations, and encounters that could occur along the way. The artists intend to take up notions of the political reality in America, clichés of Christian fundamentalism, and the American dream of a multicultural "Babylonian" community and thus dismantle well-worn patterns of thought.
Exhibition view

Two new Talks on Babylon will be performed by the philosopher Boris Buden and the art therapist and Tarot-expert Alexandra Müller-Benz at the 4th Berliner Kunstsalon on September 29 at 6 p.m.

Until October 21, 2007, J&K's exhibition Egyptomaniacs will be shown in Overgaden, Copenhagen.
More information on J&K's activities can be found on the Internet: www.jk-world.net

This presentation of J&K's work is the forth and last installment of an exhibition series by uqbar in cooperation with the 4th Ars Baltica Triennial of Photographic Art Don't Worry – Be Curious!, in the scope of which artists from the countries bordering the Baltic Sea are presented, whose work addresses problems and fears resulting from upheavals in present-day society. The 4th Ars Baltica Triennial is a project of Stadtgalerie Kiel, curated by Dorothee Bienert, Kati Kivinen, und Enrico Lunghi. The project has been made possible by the support of the European Union's program Culture 2000, the German Federal Cultural Foundation as well as by the Prime Minister of Schleswig-Holstein and institutions in the Ars Baltica partner countries.
For further information see www.arsbalticatriennial.org
Ausstellungsansicht | Exhibition view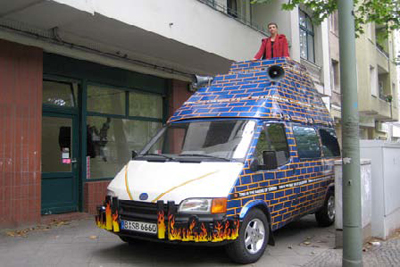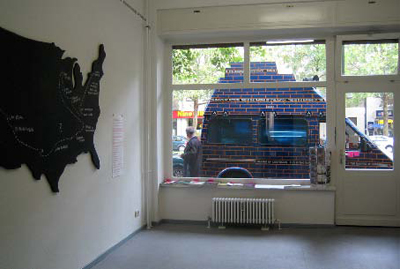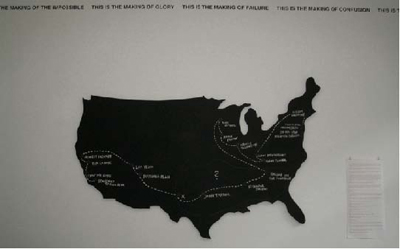 ---